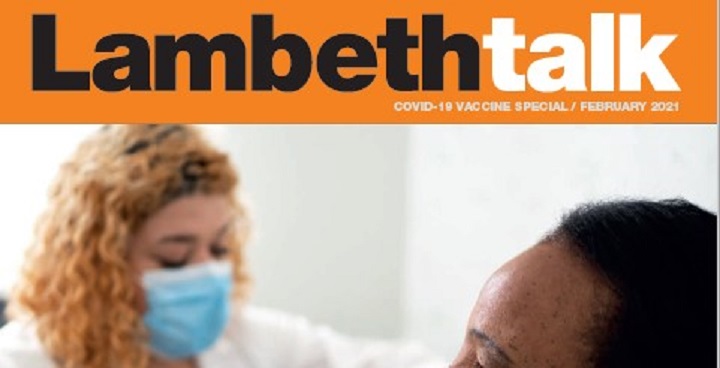 Read our free 12-page Covid-19 vaccination special – and get answers to your questions about the jab. We're also asking all residents to fill in a FREEPOST survey to help the council understand more about what the barriers are to vaccination and what other help is needed while the pandemic goes on.
What's in the Vaccine Special of Lambeth Talk
Vaccines Q&A introduced by Ruth Hutt, Lambeth's Director of Public Health. Answers to frequently-asked questions on the safety of the vaccines, any after-effects, if they're vegan-friendly, and the myths about microchips and altering human DNA.
An open letter from Council Leader Cllr Jack Hopkins reassuring residents about the thorough worldwide testing of the vaccines and asking readers to complete and return a free simple survey about testing and vaccination, and to help the council know about any barriers to getting more people vaccinated or to local recovery from the impacts of Covid-19. The survey follows the letter on the next two pages.
An interview with one of Lambeth's ward councillors with her personal experience of getting a first dose of the vaccine in a Lambeth vaccination centre and her thoughts on the impact Covid-19 is still having on communities, and why vaccination is a step forward to where people can overcome isolation again.
How to find a testing centre and book a Covid test by email or phone, if you have symptoms or not.
Information on what self-isolating means and why you must self-isolate if you have tested positive, have symptoms and are waiting for Covid-19 test results, have been contacted by Test and Trace to say you've come into contact with a known case, or if you've just come home from a country on the quarantine list.
Young people and the pandemic, by Lambeth Made Safer.
Read Lambeth Talk online
If you can't wait for your copy of Lambeth Talk to arrive in the post, you can read or download Spanish, Portuguese and English versions online.