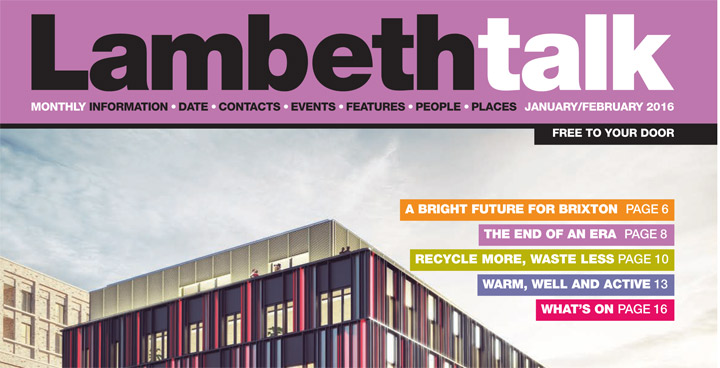 Welcome to the first edition of 2016. This time it's double edition covering January and February, we will be back to our usual monthly edition in March.
On pages 6 and 7 we provide an update on the councils Future Brixton regeneration programme. You'll find details on our ambitious plans to build a 'community for all ages 'on Brixton's Somerleyton Road, funding for Ovalhouse and an update on the revamp of the Electric Avenue street market.
In the last of our Positive Stories from former Youth Mayor, Jacqueline Gomes-Neves reflects on her past two years and some of the great things she has been involved in and some of the incredible people she has met along the way. See pages 8 and 9.
We want you to make 2016 the year to recycle more and waste less. On pages 10 and 11, we highlight some of the ways you can achieve this and bring you news of a new scheme being trialled in Herne Hill.
As the weather gets even colder our Warm and Well in Winter project continues and on page 13 you'll find advice and information on how and where you keep active in the borough.
In our regular 'From the community' section on page 15, Healthwatch Lambeth explain why your views and stories of health and care services matter and how they are used to influence the people who buy and plan services.
In our regular what's on guide, pages 16 to 17, you'll find a variety health and fitness activities taking place in the borough.
Download Lambeth-talk-Jan-Feb-2016
Have an idea for Lambeth talk?
If you have something you want to tell residents and local businesses about or if you know of someone, a project or organisation in the borough that you think would be great to feature in Lambeth talk let us know.
Email lambethtalk@lambeth.gov.uk or leave a comment below.