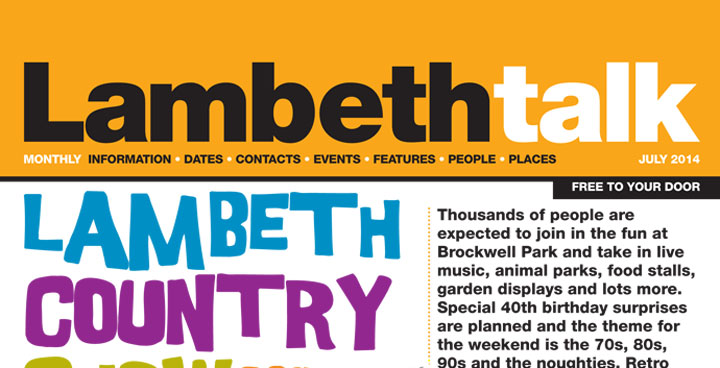 Summer has arrived and there's plenty happening in Lambeth to get you out and about and enjoying the lovely weather.
Lambeth Country Show returns on Saturday 19 and Sunday 20 July. This year is the shows 40th birthday and there are some special surprises in store to mark the occasion. Find out more in our special four page Lambeth Country Show guide.
On pages 11 to 14 we introduce you to the two organisations that won our pro bono communications offer. Streatham Power and Streetscape are both local Lambeth organisations with a lot to offer the community. Find out who they are, what they do and how you could get involved.
Read our guide to what's on in Lambeth on pages 18 and 19. You'll find information on the opening event for the Black Cultural Archives, as well as details for Streatham Festival, local markets, concerts, workshops and theatre.
If you're looking for an alternative shopping experience, check out our article on Brixton Night Market on page 20. This unique community market brings a bit of extra sparkle to Brixton twice a month with entertainment, real street food, arts and crafts.
For more things to do in the borough take a look at page 21 where you'll find information on Lambeth's Heritage Festival and a rich mix of free events taking place around the borough.
Download Lambeth talk-JULY-2014
Download the Lambeth Country Show special
Have an idea for Lambeth Talk?
If you have something you want to tell residents and local businesses about or if you know of someone, a project or organisation in the borough that you think would be great to feature in Lambeth talk let us know.
Email lambethtalk@lambeth.gov.uk or leave a comment below.