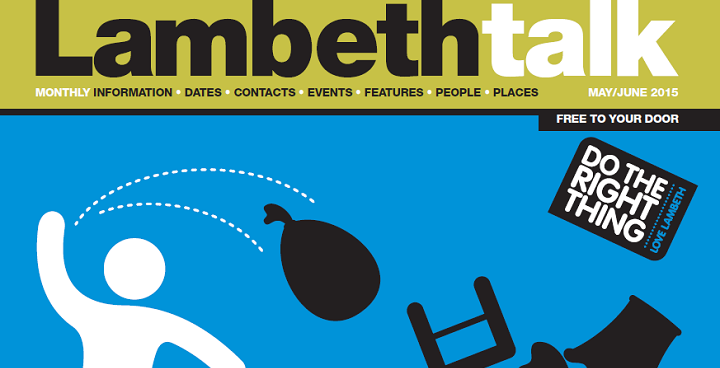 On pages 4 and 5, we bring you news that every child who applied for a Lambeth primary school place has been offered one, we outline a new strategy to help residents struggling with debt and introduce Lambeth's new Mayor, Councillor Donatus Anyanwu.
Between November 2014 and January this year we asked your views on how Vauxhall could be improved. The results are in. On page 7 you'll find out what you told us are your priorities for the area.
In our regular Youth Mayor's positive stories, page 8, find out how Corpus Christie pupils are taking an active role in running the school and meet the winners of Lambeth's school debating competition.
Not on our Streets! Looking after the environment is everyone's responsibility and we are getting tough on those who don't. On pages 10 and 11 we highlight the action we are taking and how you can do the right thing.
On page 12 we find out about a new project, Listen to Lambeth, which supports young adults involved in crime to explore new ways of thinking.
Streatham Food Festival is back for the sixth year, giving everyone the opportunity to celebrate the cultural diversity of the area over five fun-filled days. See page 13 for details.
A date for your diary – Lambeth Country Show, Saturday 18 and Sunday 19 of July. London's biggest and best country show is back for another weekend of spectacular delights in Brockwell Park. This year's theme is 'love' so expect a lovey dovey weekend of fun for all ages.
In our regular what's on guide we have lectures, exhibitions, competitions, festivals and fetes to keep you entertained – see pages 18 and 19.
Download Lambeth talk May/June 2015
Have an idea for Lambeth talk?
If you have something you want to tell residents and local businesses about or if you know of someone, a project or organisation in the borough that you think would be great to feature in Lambeth talk let us know.
Email lambethtalk@lambeth.gov.uk or leave a comment below.