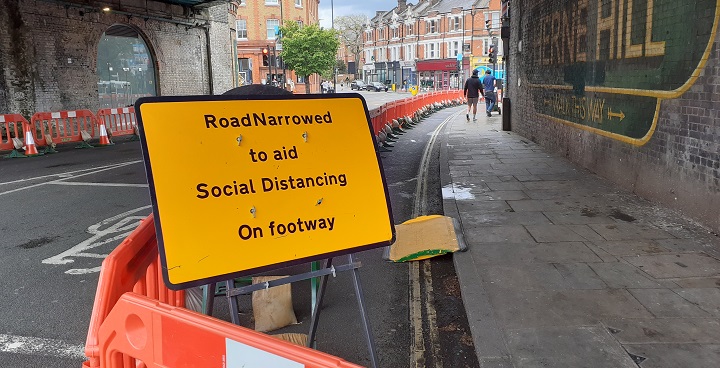 Summer's 24-page scheduled edition of Lambeth Talk brings news and updates from the council and the community. The front cover shows pavement widening under one of Lambeth's railway bridges  part of the council's new transport initiatives to help social distancing, the environment and safety across the borough, which you can read more about inside..
News and updates include:
Cllr Jack Hopkins, Leader of Lambeth Council, introduces the council's report on ideas for what happens in the future, including volunteering opportunities to build on the community's response to this crisis.
Transport, safety and the environment: urgent action Lambeth is taking on road danger and clamping down on engine idling in the borough.
Lambeth's new grants to help in the recovery of voluntary organisations; and our lobbying for government action on the inequalities of the impact of Covid-19 on Black and Minority Ethnic communities.
Cllr Philip Normal – the new Mayor of Lambeth and a mayor of 'firsts' – talks about the places he loves in Lambeth and the LGBT+ charity chosen as the Mayor's Charity in his year of office.
Support from children's centres and help for [parents.
Crowdfund Lambeth – matchfunding from the council for community-led projects – creating a community space, gardening for wellbeing and connecting a neighbourhood.
Volunteers tell the story of a creative video project 'a Day in the Life of Lambeth in Lockdown'.
Windrush Day June 22, 2020 – plans for a celebration of the legacy of a generation of people who rebuilt Britain, inspired by 'Clap for Our Carers' and soundtracked by the diverse musical sounds of Lambeth with Caribbean roots.
Virtual Country Show – An online countdown of events leading to a virtual show encompassing all the best bits on 18 and 19 July. Includes links to favouriate exhibitors and traders.
Lambeth Libraries summer reading challenge.
Get your copy of Lambeth Talk
Summer's Lambeth Talk will be distributed free by post to every household and business in the borough, with deliveries starting on 1 June
Or you can read it online or download a copy.