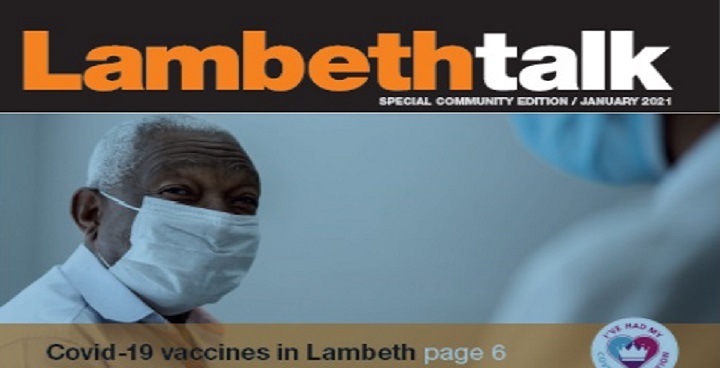 January 2021's 12-page special edition of Lambeth Talk magazine brings news and updates from the council and the community on the Covid -19 Pandemic – including testing, vaccination and local helpful organisations.
News and updates include:
Cllr Jack Hopkins, Leader of Lambeth Council, highlights the way volunteers, businesses, front-line workers and others have teamed up to help others in the pandemic.
Interview with a local GP on her personal experience of getting her Covid-19 vaccination and hopes for the vaccination programme in Lambeth.
How to book a Covid-19 test at a Community Testing Centre.
Helpful organisations and volunteering.
Overcoming digital exclusion, including council funding for local charities and ways to donate your old laptop or 'phone.
Current 'Stay at Home' advice from the Government & NHS including the guidance on meeting, pubs and restaurants, exercise, places of worship and schools & colleges.
Key information translated into community languages.
When, why and what to do if you're told to self-isolate after coming into contact with someone who has the virus.
Get your copy of Lambeth Talk
The special community edition of Lambeth Talk will be distributed free by post to every household and business in the borough, with deliveries starting on 25 January.
Or you can read it online or download a copy.