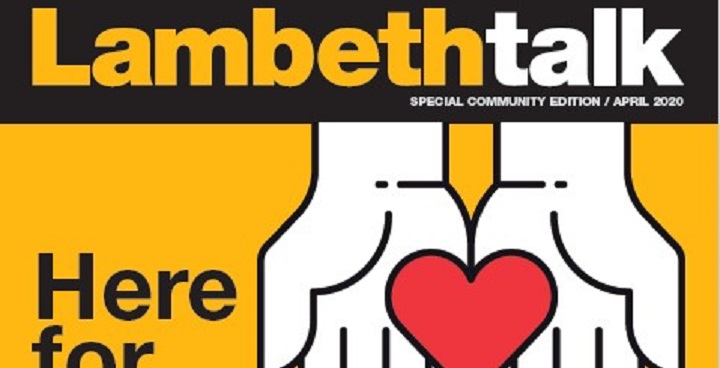 Lambeth have put together a special coronavirus crisis edition of 'Lambeth Talk', containing multi-lingual advice and sign-posting of support/guidance from the council and Public Health England (PHE) on COVID-19, as well as information on the many Food Banks and other VCS organisations which are assisting the community at this time (including how to donate or volunteer).
Hand delivery
The magazine will be delivered by hand starting at the beginning of April. The delivery team have been attributed "Key worker status" and will have masks and gloves, hand sanitiser and social distancing measures including working alone and picking up stock from pre agreed locations.
Page-by-page guide
Washing your hands – when and how in words and instagrams
"Lambeth United" message from the Leader of Lambeth Council, Cllr Jack Hopkins
Helpline for those who are, or become, vulnerable during the pandemic
Council Tax intervention update, including where to find help making an application
Help organisations including Lambeth Mutual Aid groups, the GAIA Centre for people fleeing domestic violence, employment support and advice
How you can help as a volunteer, including how to register as a volunteer and how to donate food to a foodbank
Advice on washing, social distancing and more in lambeth community languages, and where to find more help in translation
New Crowdfund Lambeth projects and how Crowdfunder is extending the scheme to make money available for schemes tackling the Covid-19 crisis
Maintaining your wellbeing if you're working from home or self-isolating, including managing stress, coping with the news, keeping active and overcoming loneliness
Reminder of what 'essential travel' means.
Read the latest edition