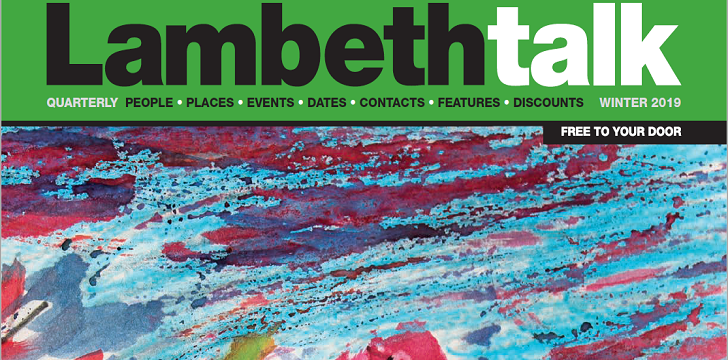 Cover story. This year the Garden Museum celebrated six years of collaboration with the South Lambeth Schools Partnership by putting on a school arts project and exhibition.
143 pupils from Streatham Wells Primary School and Granton Primary School painted their own secret gardens, inspired by the plants, art and objects within the museum.
The amazing artwork on the cover was kindly provided by the Garden Museum.
Crossing over (page 6)
Lambeth Made launched the Business Charter. It's our way of recognising the social value businesses create when they work with us to benefit children, young people and families. Together we are Building Young Brixton
Settled or not yet? (page 8)
There are about 40,000 people living in Lambeth who are from other European Union countries. We want you to stay here after Brexit.
For more information and how to apply visit gov.uk/eusettledstatus.
If you run or own a business, the Ministry of Housing, Communities and Local Government have published a toolkit for businesses, called Prepare your business or organisation for the UK leaving the EU.
Working together (page 10)
The Lambeth Borough Plan is all about collaboration; it sets out the big challenges and ideas we need to work on to make Lambeth the best place to live and work in London – for people from any background.
Tackling youth violence (page 12)
All of us working for Lambeth Council feel that we are collectively responsible for helping our youngest residents learn, grow and live safe, healthy, positive lives now and in the future. Watch the video from the first event we have organised.
The Big Sleep Out. No one should sleep rough on the streets of Lambeth (page 14)
Lambeth Council – particularly its housing staff and outreach teams – work hard every day of the year to find shelter for the homeless. Now many of us are taking part in a sponsored sleep out in central London on 7 December. Please get in touch to find out what we can do or if you need advice and support