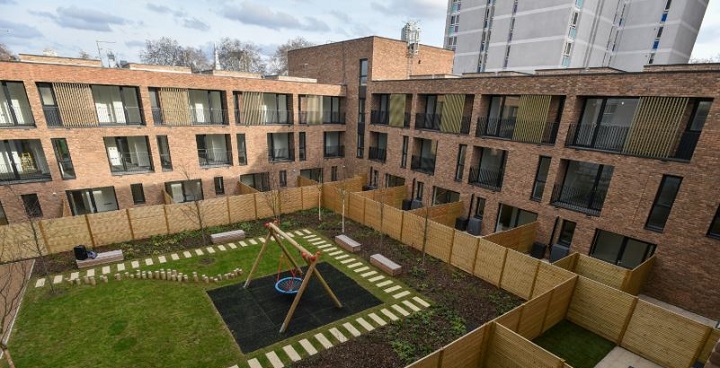 The Lollard Street development, which includes 70 new homes at council-level rent, plus a further 19 homes for sale, a new nursery and children's centre, and communal gardens, will make a huge contribution to Lambeth's efforts to tackle the housing crisis.
The council-level rent homes will be managed by Homes for Lambeth (HfL), the council's own housebuilder, while proceeds from the sale of the 19 additional homes will help pay for even more council-level rent homes in Lambeth.
The development was delivered under an innovative agreement with developers Braeburn Estates, as one of the conditions imposed on them by the council as a part of the planning permission to redevelop the Shell Centre at Waterloo.
Word from the Cabinet
Lambeth Council leader Cllr Lib Peck officially took possession of the new homes on behalf of the council at a handover ceremony at the site on Friday, 18 January. Among the people at the event was local resident Kevin, a father-of-three who has been waiting eight years for a new home; the family will move into a new three-bedroom flat at Lollard Street in a few weeks.
Cllr Peck said: "When we're facing such enormous spending cuts, we have to use all the powers available to us to find the money to spend on priority services like social housing.
"The Lollard Street development is a fantastic example of us working with developers, through the planning system, to provide the council-level rent homes we need to help tackle our housing crisis. By agreeing to allow the developer to build off-site from the Shell development in Waterloo, we managed to revive this neglected site and secure many more family-sized social rented homes than the 17 proposed on-site units which would not have met local family needs.
"The result is the fantastic, modern development of high-quality new homes that we see today; these properties, which will soon provide homes for scores of families, will be the new benchmark for affordable homes in our borough."
The council-owned site, around around a former underground car park and the old Ethelred Nursery, was identified for regeneration under the Shell agreement. Braeburn Estates, a joint venture between Qatari Diar and the Canary Wharf Group, not only paid for the development but also carried out the building work for HfL – ensuring that the project could take full advantage of their experience and expertise.
Lollard Street, the first social housing to be delivered by both Canary Wharf Group and Qatari Diar, is the off-site provision of Southbank Place, which includes 98 extra care and intermediate rent apartments directly on the 5.25 acre Shell Centre site.
In total 187 affordable new homes have been built by Braeburn, the majority of which remain on the main Southbank Place site, on York Road.
Cllr Matthew Bennett, Lambeth Cabinet Member for Planning, Investment & New Homes, said: "It's a difficult time for councils to be building their own houses, as the financial and legal rules often seem to be stacked against us.
"But we have a housing crisis in Lambeth, like the rest of London – with over 2,000 families going to bed homeless every night. We have to do everything we can to tackle it, by building the homes they need.
"We've shown through the estate regeneration programme, and the Somerleyton Road plans endorsed this week, that we are working hard to provide more and better homes for the people of Lambeth wherever we can. This new development will be another vital addition to our attempts to tackle the housing crisis."
The Lollard Street development comprises one sixteen-storey tower block, one seven-storey tower block, four four-storey blocks and fifteen three-storey townhouses. The homes include one- and two-bedroom apartments, as well as four-bedroom family houses.
Sir George Iacobescu, CEO, Canary Wharf Group, said: "From the outset we wanted to deliver affordable homes that are of the highest standard both inside and out, providing a better quality of life for its residents. This project is proof that by working closely with the local authority, developers can go above and beyond expectations to deliver the type of homes our communities really need."
Tariq Al Abdulla, CEO, Qatari Diar Real Estate Investment Company, said: "It has always been a key goal of ours to ensure that our developments provide exceptional places to live, enhance the surrounding area and benefit the local community."
Read full details of Homes for Lambeth's role in the estate regeneration programme.