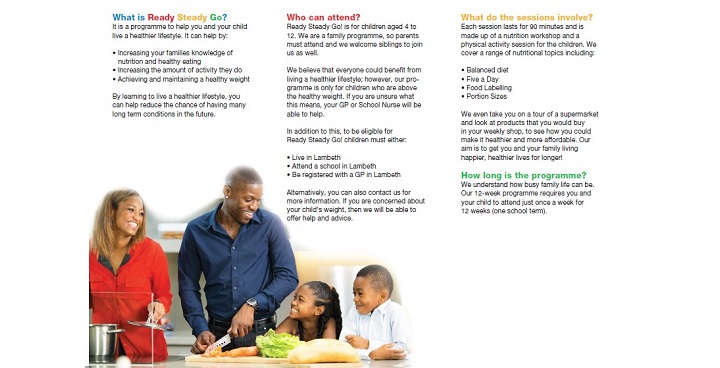 Alejandra has two little girls in Lambeth schools: "My daughter was always energetic and keen to do new things. Then I became worried. The GP did tests and confirmed no underlying health problems, just her weight. They recommended Ready Steady Go.
Two sessions
'The structure of the sessions was the family together learning about diet and healthy eating, then an hour of physical activity – running, or obstacle courses. Sometimes they would compete against their parents, which they loved.
Learning the labels
'We did both programmes – for children age 4 to 6 and 7 to 12. We learned how to read food labels and had a tour of the supermarket. Food labelling is different in different countries, it was very helpful that our nutrition teacher Laura speaks Spanish to explain to me what to look for.
Chocolate and juice
'It was really good that we did it together as a family. My elder daughter didn't drink water until she saw for herself how much sugar is in fruit juice  – now she drinks 6 to 8 glasses a day.  My younger daughter loves chocolate but was so surprised when they showed us how much sugar and fat is in it, she chose to give it up. It wasn't easy, but she succeeded because it was her own choice. I love chocolate too, but she stops me eating it.
Weekly goals
'Both my daughters are full of energy again now – they enjoy gymnastics, swimming and ballet – last weekend they started horse riding.  We have a wallchart with a weekly fitness goal and they always tick it. They encouraged me to count steps and I now choose to walk more.
Spread the word
'When I meet other parents worried about their children's weight I always recommend Ready Steady Go. Last week I met one of the other Mums from the programme and she agreed we must spread the word.  Ready Steady Go keep in touch and ask 'how are you doing?' We have a summer event coming up with them.
---
For  more information
For details of the Ready Steady Go programme https://love.lambeth.gov.uk/ready-steady-go/