Our annual open day, held on Saturday 4 July, is a great opportunity for people to pop in and see what goes on in 'The Rec' and what's coming up during the summer holidays.
This year we worked with some excellent local and national organisations to tempt people to try a wide range of sports they might not otherwise consider and that are on offer at the Rec. Here are some highlights:
The Brixton Fencing Club provided pointers to those picking up a foil for the first time; X'po-Zure Dance Club led sessions in
Afewee Boxing Club, which has a new home at the Rec, put people through their paces in non-contact boxing.
Basketball was on offer from our resident basketball club Brixton Top Cats, which attracts more than 200 junior players, and from the Brixton Ballers Wheelchair Basketball Club.
For any aspiring Scott Parkers, Fulham Football Club was on hand to pass on tips and techniques in their football coaching sessions
What's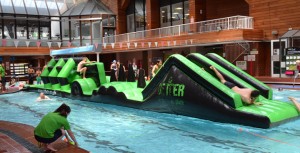 more, GLL staff and instructors held sessions to showcase Abs workouts, X-cube classes and 2 hour blast aerobics, as well as posing a fitness challenge. For youngsters, we had face painting, story telling, a bouncy castle and soft play.
And in the pool, we made a splash with a juggernaut inflatable session!
We're confident the 500 plus visitors found something new to try and learnt a bit more about some of the sports that go on inside the building.
Find out more
If you have any comments or feedback on the day please let us know by emailing us at Brixton@gll.org.
For more information about Brixton Recreation Centre and our summer programme visit www.better.org.uk/brixton