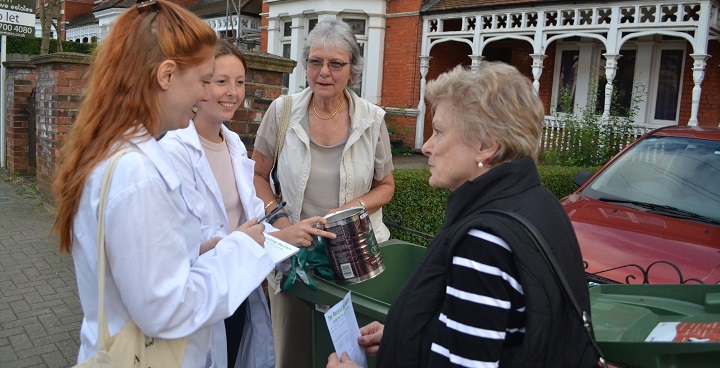 It's Recycle Week week from 23 –30 September, and Veolia Lambeth have devised a novel approach to helping residents improve their recycling.
Who are the Doctors?
The 'doctors' are members of Veolia Lambeth's Communications, Education & Outreach Team. They decided to change their approach in an effort to draw more attention to the importance of recycling correctly. Team Leader Jason Prentis explains: "We thought it'd be a good idea to call our visits 'Recycling Surgeries', so then it seemed obvious that we should dress as doctors in white coats – people trust doctors! We get a good reaction when people answer their door and we say, "Hello, we're the Recycling Doctors". It's a bit different to what people are used to, and they seem to respond well to it."
Are you recycling right?
When recycling bins are 'contaminated' – containing non-recyclable materials such as food, textiles and plastic film – it costs thousands of pounds every year in additional fees. Most people think they're recycling correctly, but there are common errors and misconceptions that can lead to bins not being emptied, or the wrong kinds of waste being collected. The Recycling Doctors visit roads the day before bins are due to be emptied, and look through the contents with the bins' owners so that they can explain which materials are recyclable and which aren't. Many people are surprised to hear that things like plastic bags, polystyrene and paper towels aren't recyclable.
Better understanding
Resident Martin Stanley said: "I liked the theme of the Recycling Surgery; it was amusing without being annoying. I learnt something new about what could be recycled in Lambeth and now have a better understanding of why some items can't be recycled".
For more information