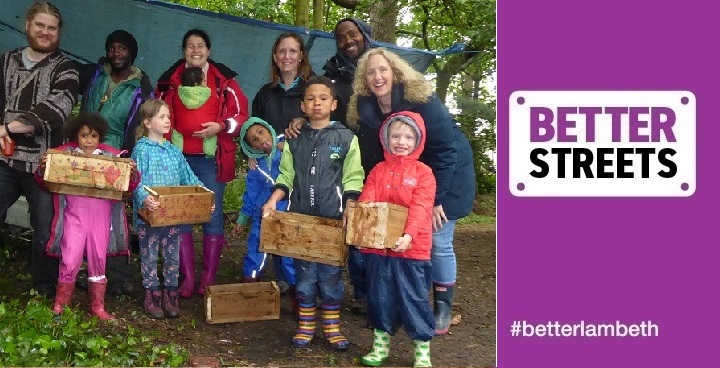 Charity Nature Vibezzz are looking for volunteer researchers to help write a booklet about the historic and natural heritage of Knights Hill Woods, Tivoli Park and the local area. They're also looking for local people to share memories of living and growing up there for a planned film.
Memories, heritage and community
Both ideas are part of the National Lottery funded community project Memories, Heritage and Community of Knights Hill Woods and Tivoli Park.
Woodland habitat
Knights Hill is a surviving fragment of the Great North Wood that once covered swathes of London in oak trees. The site is classed as a Local Site of Importance for Nature Conservation (Local SINC). The woodland is home to birds like woodpeckers, blackbirds, robins and wrens, and wild mammals like woodmice and shrews. Nature Vibezzz and volunteers of all ages are working on project activities that will make the woods a valuable educational resource for local schools and groups.
Local history
Tivoli Park took a direct hit from a high-explosive bomb during the Blitz. Nature Vibezzz hopes local residents will share memories – not just of the War, but of living and growing up in the area. We want to get our story out in April 2019 so we're looking for volunteers and to meet and hear your memories starting now.
---
For more information
For more on the Knights Hill and Tivoli Park project see the official information pages
Nature Vibezzz provides free Forest School, environmental education and practical nature conservation sessions, programs, events and community projects. They can also tailor activities for schools and groups. Email them or see their main information and news pages, or follow their blog posts
Heritage Lottery Fund. Thanks to National Lottery players, we invest money to help people across the UK explore, enjoy and protect the heritage they care about – from the archaeology under our feet to the historic parks and buildings we love, from precious memories and collections to rare wildlife. See their official pages or follow them on Twitter, Facebook and Instagram and use #HLFsupported.