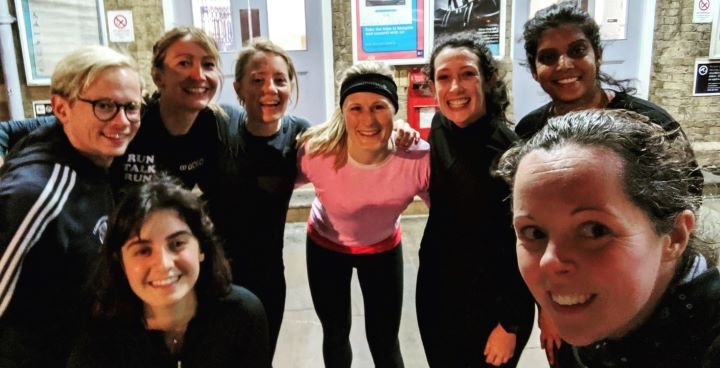 London has been ranked as the 'loneliest' city in the UK, and RunTalkRun Brixton (RTR Brixton) provides a space not only to get active but also to meet and connect with others in the local community. RunTalkRun Brixton is a weekly, chilled, 5km community running group and safe space to talk about mental health.  We are FREE to attend and for ALL ABILITIES.  No one is left behind.
Peer support
RTR was set up in 2017 by Jess Robson to make both running and mental health support less intimidating and more accessible.  Jess set up the first RTR group in Southwark to provide a space which would normalise conversations around mental health, facilitate peer support, and make the benefits of running accessible to everyone, regardless of previous experience.  Since then, RTR has transformed into a global community, in over 40 locations worldwide, and RTR Brixton starting in July 2019.
People who listen
In a June 2019 survey, 73.3% of runners stated that RTR had improved their mental health: "It's been really great to get fitter and connect with such nice, friendly people who listen, but also acknowledge when they're struggling with things too." "Three key things have really stood out for me about RTR: (1) friendships – I've met and bonded with some incredible people and made some great friendships.  (2) community – it's a great support network with a truly inclusive culture, much more than just a running club! (3) well-being – I'm in a much better place mentally"
Connect with neighbouring boroughs
As RTR continues to expand globally, in the local community we hope to attract an increasing number to RTR Brixton, and to encourage people in Lambeth to get active for their mental as well as physical health.  As well as our weekly runs, through socials and events like Park Run takeovers we aim to connect our runners with those in neighbouring boroughs.
For more information
RTR Brixton meets at the Prince Regent Pub on Dulwich Road (with bag drop available) every Wednesday at 7pm for a 7.15 start.
Running with RTR is completely FREE.  Sign up through the MyCrew app, select 'London' as your location, and search for RunTalkRun Brixton. Or, email RTRBrixton via one of its leaders.
For more info on RTR see their information pages