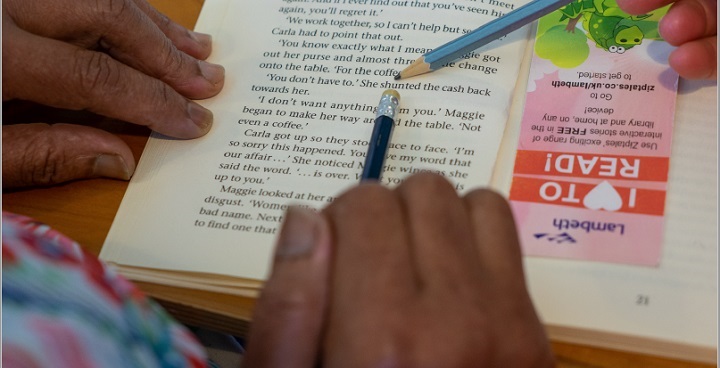 "Ruskin Readers are a team of Lambeth volunteers helping adults improve their reading and writing skills. The idea developed from evening classes, realising how one-to-one support is a better way to learn. We started out in Carnegie Library, where the name 'Ruskin Readers' was found. Now we're based in Bell House, Dulwich.
Connecting through words
"The age range is from 20s to 80s. People can be very skilled at painting or sewing but still have reading difficulties, and are afraid to be defined as stupid. They may have a variety of problems that affect their ability to read and write. Learning gives them the power to text their families and friends or to follow the words of a hymn in church.
Matching motivation
"Unlike school, adults don't have to learn whatever you put in front of them. We find what motivates them. It could be a cookery book – learning letters and words so they can create the food in the photos. With others, it's non-fiction such as biography or classics like Wuthering Heights in a pre-teen or dyslexia-friendly version.
Leaving the comfort zone
One student said 'books are boring', then went on to read the Diary of Anne Frank. Much impressed, she took her daughter to Anne's house in Amsterdam to share the message. She is now feeling more confident at work and can manage her spelling far better. Learning to read can lift people out of a very limiting comfort zone – life's better when they can read about fat and sugar on food labels and say 'no'; when they can fill in a form and join the gym, and more fun when they can order from a menu, or book a ticket and travel.
Learn together club
"We want people to think of themselves as members of a learning club, not as students with teachers. We socialise. We have cultural trips out. There's no formal graduation but we do offer certificates because they motivate people.
Networking
"I'd love more students, more volunteers, maybe to start a network of Adult Literacy trainers in Lambeth so we can share knowledge and success stories."
For more information
If you know someone who'd like help to improve their reading and writing skills, follow Ruskin Readers on Facebook,  contact them by email, or via their information pages