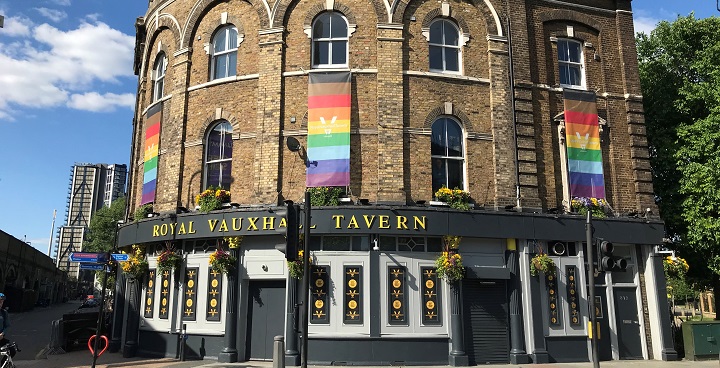 The Royal Vauxhall Tavern (RVT) has successfully applied for a grant from Lambeth Council's Independent Hospitality Fund and been awarded £20,000.
Hard-hit businesses
The Fund is part of Lambeth's Local Economy Hardship Fund, set up to provide £4.2m in grant support to over 370 organisations, including restaurants, pubs, cafes, clubs and music venues, put at risk by loss of income during the Coronavirus crisis. Grants of between £5,000 and £25,000 were on offer to badly-hit businesses, charities and not-for-profit organisations to support their chances of survival and recovery. When setting up the Fund, council analysis quickly showed that LGBT+ venues in Vauxhall were in the highest economic risk category. As businesses that bring people together, bars and clubs like the RVT faced the biggest threat to earnings.
Word from the Cabinet
Cllr Matthew Bennett, Lambeth's Cabinet Member for Planning, Investment & New Homes, said: "Our social, creative and community sectors play a critical role in Lambeth's thriving local economy, support thousands of jobs and are an important part in what makes our town centres, and Lambeth as a whole, so vibrant. Keeping businesses open is vital for those who rely on them – but is also vital to support Lambeth's recovery from this crisis and the economic damage that we are already seeing in our community. We mustn't lose those places and organisations that make Lambeth, Lambeth"
Hour of need
CEO and Managing Director of RVT Ltd James Lindsay.said: "It's really just a couple of weeks ago Lambeth contacted businesses and invited us to apply, and already the paperwork to get us the money is processed. Not only have the council stepped in in our hour of need, they've also stepped in at fantastic speed."
Re-opening for the community
Since closing to the public on 20 March the RVT has offered social media and virtual performances from performers and DJs. It will re-open in line with Government guidelines on Saturday 4 July.
More information
• The RVT is widely recognised as London's most iconic LGBT+ venue, built in the 1860s and the first place in the UK to be awarded Grade 2 listed building status because of its importance to LGBT+ (and Lambeth) history. It's also listed in Time Out's list of London's top 50 iconic locations.
• Although the RVT is a small independent Lambeth company, it didn't meet the criteria for a central government grant of £25,000. The Lambeth funding is in addition to more than £50,00 given to a fundraiser organised by Managing Director James Lindsay. More than 1,500 supporters – many who feel part of the RVT family of entertainers and loyal customers – donated to keep the historic cabaret performance and club venue alive.