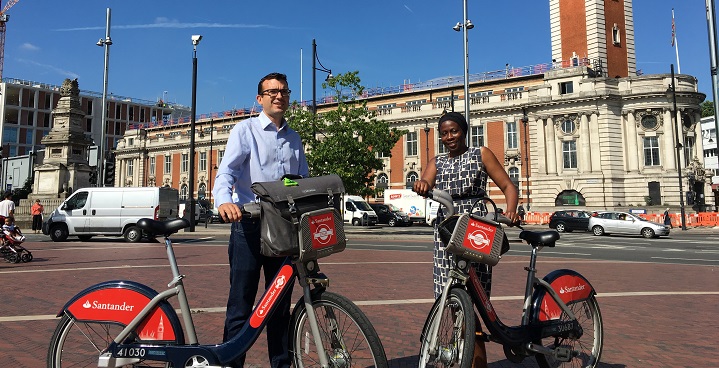 The Mayor of London, Sadiq Khan, has today announced that the hugely popular Santander Cycles scheme will expand to Brixton later this year, making cycling easier and more accessible for tens of thousands more Londoners.
Seven new docking stations, providing space for up to 200 bikes, are to be installed across Brixton after funding was agreed with Lambeth Council.
The scheme is already one of the one of the largest cycle hire schemes in Europe and this extension will expand its reach south from Stockwell.
The expansion builds on last year's installation of eight new docking stations at Queen Elizabeth Olympic Park, and comes after a record-breaking 2016, which saw an unprecedented 10.3m hires – 4.4 per cent up on 2015. This year there has already been more than 5m hires, with five of the six months beating year-on-year records for the number of journeys being made.
Later this summer, TfL will also introduce a next-generation bike for Santander Cycles manufactured by Pashley that retains the popular features of the existing model but will be more manoeuvrable with smaller wheels, a lower frame, a new gear hub and a more comfortable seat.
Word from the Cabinet
Councillor Jennifer Brathwaite, Cabinet Member for Housing & Environment, Lambeth Council, said: "Extending the bike hire scheme further south into the borough is excellent news for Brixton and something we have campaigned for a long time. I'm delighted that the Mayor is as committed as we are about improving cycling infrastructure and making it easier for people to swap their cars for more active modes of transport. This all helps to make people fitter and healthier, reduces the congestion on our roads that is contributing to such poor air quality, and reduces the burden on other forms of public transport. I'd encourage everybody to give it a try and get cycling."
The Mayor of London, Sadiq Khan, said: "I'm thrilled that we are expanding our iconic cycle hire scheme to Brixton. We're working hard to make cycling more accessible across London and this will make a real difference to those living in, working in or visiting Brixton. It's another step forward in our work to improve air quality and the health of all Londoners."
Will Norman, London's Walking and Cycling Commissioner, said: "Santander Cycles are a great way to get all ages and abilities cycling, so I'm delighted that we can expand their reach to Brixton. The record-breaking scheme continues to grow in popularity and with new bikes being introduced this summer, we can be sure it will help even more Londoners enjoy healthy and active travel around the