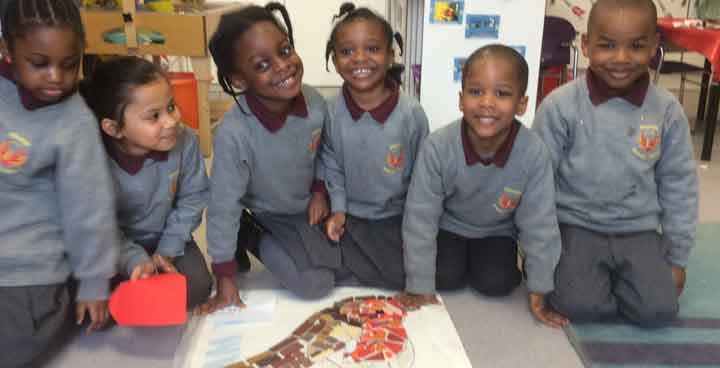 Pupils at Gipsy Hill Federation and Mayflower Federation schools together created 140 mosaics of birds to send to their twinned school, Oogo School in Kisumu, Kenya.
The feathered friends will decorate a new classroom that was built with funds raised by the Lambeth and Southwark school children in the Kingswood, Paxton, Elmwood, Crawford, Fenstanton, Glenbrook, Phoenix and Ilderton primary schools.
In total 140 classes and over 4,000 children were involved in the project.
And the plan is that children in Oogo will create their own masterpieces to send back to London in May.
To help fund the cost of the project, the London children held a sponsored drumming day when pupils were challenged to keep a drumbeat going all day between them.
Julie Norburn, from Art4Space, worked with the children on the Birds Fly to Africa project to create the mosaics and will also travel to Kenya to help the Oogo children.
Julie said: "By working on the mosaics, the children are reaching out to make a connection with the pupils at Oogo. Birds are truly magnificent creatures, the ability to fly miles on end at will is something all humans must envy. Some migration birds will travel hundreds of miles across countries and continents with no rest.
"From these birds' resilience and strength, the children can take inspiration and think about the different ways children wherever they happen to live cope with life's challenges."
Max, from Waxwing Class, Year 4 Elmwood said: "This is a special mosaic for Kenya. We are trying really hard to make a difference to their education by providing better classrooms and now covering them in mosaic to make the children happy!"
Sir Craig Tunstall, Executive Head Teacher, said: "This was the most amazing, and largest, joint project our two Federations had done.  The children were so excited that the mosaics they worked were going to be sent to Kenya, and they would be getting mosaics sent back to them from the children of Oogo. All our schools have learned a lot about their twinned school, and have been amazing in raising money to fund this project so that their mosaic birds can fly across to Kenya."
For more information, visit www.art4space.co.uk or contact Julie on 07816 386 270 or jewels@art4space.co.uk