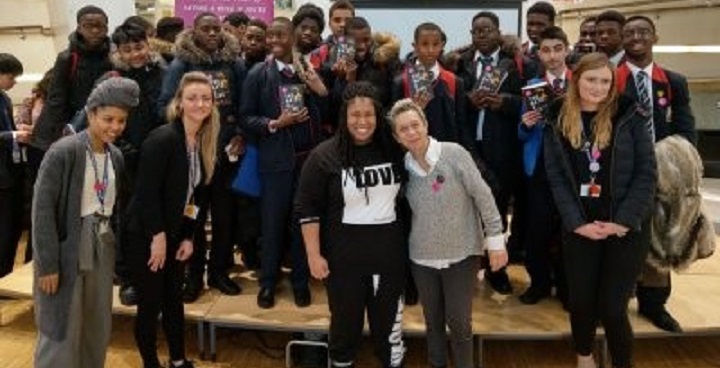 In March, Angie Thomas, author of Young Adults novel 'The Hate You Give', visited Clapham Library for a Q&A (and countless selfies) with over 200 readers. In November the same pupils were among the first visitors to the new West Norwood Library & Picture House for the film adaptation.
Free to libraries
Kennington-based publishers Walker Books donated free copies of the book to school libraries, and introduced the screening.
Points of view
Experiencing how a work of fiction is adapted for the big screen helps students think about looking at creative work in different guises. A film adaptation may ruin someone's mental picture of the story's characters but it is a great way to show students other points of view and enables them to share their views and open up discussion.
Film (and cinema) reviews
Alisha, Year 9, Norwood School, said: "The film shows the struggle African-Americans go through today, it was very emotional and made you sympathise with the characters. I enjoyed the cinema, the seats were very comfortable!"
Mia, Norwood School, said: "The message is something everybody needs to hear: if you see injustice, speak out! West Norwood cinema is beautiful and modern, the screen was massive!"
Stella-Maris from La Retraite RC Girls school said: "Books are usually better than film versions but The Hate You Give was very faithful to the spirit of the written one."
Maisie from Lilian Baylis Technology School in Kennington compared the book and film: "There was added drama in the film: the protest and the scene with the hairbrush did not happen as they did in the book. It was out of character for Starr to violently smash the hairbrush down repeatedly."
Serious questions
Teachers were also enthusiastic.Michael from Elmgreen School emailed Lambeth Libraries to say: "The movie provoked serious questions, and students had so much to talk about afterwards. Many students would not have had the opportunity to view such an important feature in the cinema."
Read and enjoy
Lambeth Libraries want children and young people to read more and to enjoy reading. We look forward to creating more opportunities for them to exercise their minds in 2019.
For more information
See Walker Books' official page about Angela Thomas' novel inspired by Black Lives Matter, the Hate You Give