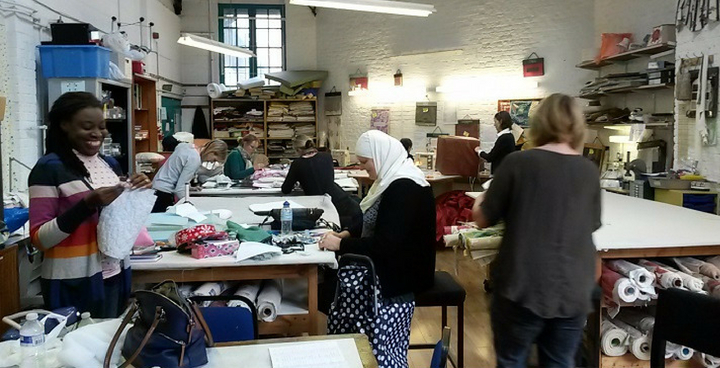 Lady Margaret Hall Settlement (LMHS) runs All Sewn Up (ASUP) – a project delivering high quality sewing and textile classes. Since 1990 ASUP has given women and men training in the highly skilled professional field of Soft Furnishing and Home Textiles. Many have gone on to establish their own businesses, brilliantly overcoming long-standing socio-educational deprivation or mental health issues.
Skills and support
More recently, we started offering courses without our usual City & Guilds formal qualifications to cater for an even wider variety of students. These courses provide not only marketable skills but also a welcome break from everyday chores and commitments, in a friendly and supportive environment. Many students come back year after year, furthering their sewing skills and having a great time along the way!
"My therapy"
Student A.E. says: "There are few community projects in this area unless you have small children. All Sewn Up is a melting pot of people of different backgrounds and ages. I have met so many new people, which has opened my eyes to the way people live their lives. Other people's projects inspire me to try techniques I wouldn't have known about. Lastly, and for me importantly, Thursday morning I joke about as being my 'therapy'. A time I look forward to and get so much pleasure from."
New look for Autumn
In Autumn Term we'll introduce exciting new classes like Clothes Upcycling & Mending, Embroidery, and Millinery as well as a Drop-in Crafts session.
---
More information
Lady Margaret Hall Settlement (LMHS) is a Registered Charity that has provided training, education and community development in Lambeth since 1897. Many more students are welcome to our workshop in North Lambeth (Unit 1, The Co-op Centre, 11 Mowll Street, London SW9 6BG, 020 7480 0216).
Donations help us offer free classes whenever possible, to introduce young and old to the pleasure and creative potential of sewing and textiles. For information on how to contribute email us
A new LMHS-ASUP website will be unveiled in September. Meanwhile, see our information pages or follow us on facebook for news, timetables, and courses and on Twitter.