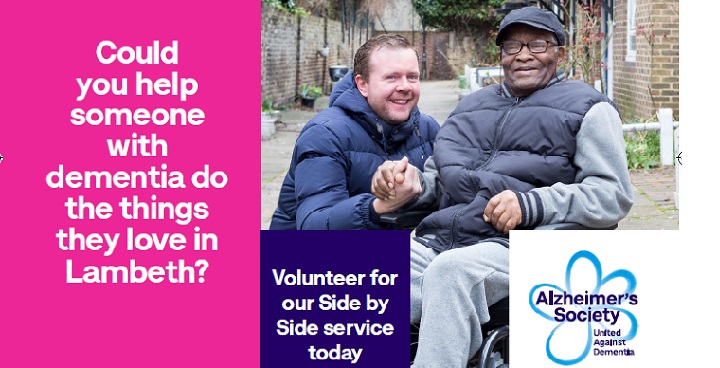 Side by Side is an Alzheimer's Society service which matches local volunteers with people with dementia, so they can keep doing the things they love.
Arthur and Dean's story
Arthur lives in Stockwell and was diagnosed with Alzheimer's in September 2017. He used to be a motor mechanic for London Transport. Arthur and Dean have been paired since October.
Friends & family
Many of Arthur's friends come from Jamaica and he often talks about his place of birth. Arthur and Dean go to Arthur's local pub where they meet up with friends and enjoy a pint and a few rounds of dominoes. Arthur and his wife Jennifer treat Dean as part of the family and when Jennifer cooks traditional Jamaican food she sends him home with a doggie bag. Arthur and Jennifer both say: "Thank you for finding Dean".
Support needs
Arthur was very clear on what he needed – someone patient and easygoing with a sense of humour, who will support him with his walking as he is not too steady on his feet. "To still be part of the community I've lived in for many years is important to me. We always have a laugh together and are always cracking jokes and Dean has enabled this to continue."
Could you go side by side with a dementia patient?
The role will suit you if you…
Are patient and reliable. You don't necessarily need previous knowledge of dementia.
Want to learn more about dementia and to help someone lead a better quality of life.
You will get support in your volunteering role and planned expenses will be reimbursed.
How much time do I go 'side by side' for?
Can you commit to two hours per week or two hours a month for a minimum of 6 months, after the relevant checks and training? This is to give your dementia partner stability.
---
For more information