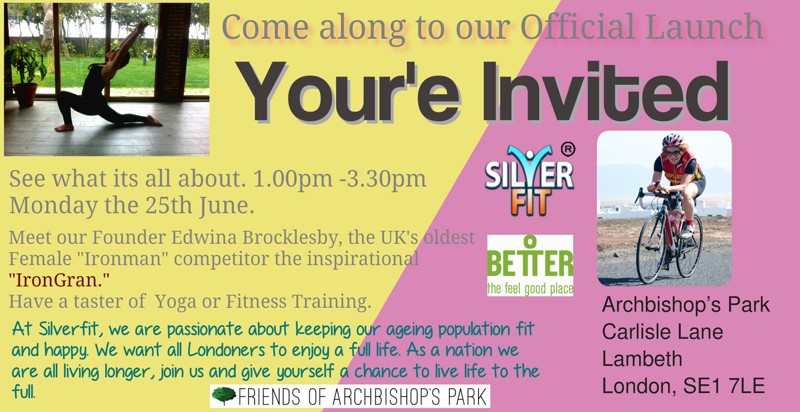 It's never too late to get more active and meet new friends. Silverfit was founded in 2013 by Edwina Brocklesby, who took up running at 53 years of age. Just over 20 years later, she's the UK's oldest female Iron Man competitor and an inspiration to so many.
Keep on living life to the full
Edwina saw a need to help keep our ageing population fitter in both mind and body. We're launching our next venue in Archbishop's Park, next to Lambeth Palace, with free yoga and fitness training taster sessions on Monday 25 June. Sessions will be on Monday afternoons, meeting at 1.30pm with activities from 2pm until 3pm. We then meet for tea, coffee and biscuits and a chat.
People keep joining
Our membership keeps growing which means at the very least, each and every week 450 Londoners take up the challenge to keep fitter. We have Nordic walking and Pilates in Brockwell Park and our Cheerleading session in Brixton Rec each week takes place on a Wednesday.
Silverfit keeps you company
Silverfitters are a lovely bunch and you can be assured of a sincere welcome. Silverfit is run by older people for older people. No need to worry if you can manage the activity or not, take things at your own pace. We are very lucky with the calibre and quality of our instructors, who will keep a watchful eye on your progress. We offer free taster sessions at all venues and activities, so if it's not for you there is no commitment. We encourage everyone to give it a go, after all, what have you got to lose? Some people coming for the first time worry about what to wear – rule of thumb is trainers or comfortable footwear, and loose clothing.
---
For more information
The launch event for Archbishops Park is 1pm Monday 25 See the Council's events listing for maps and more
For more information see Silverfit's information pages call the info line 07450 611155 or email
All Silverfit sessions are £3 each with membership, currently £5 per year.