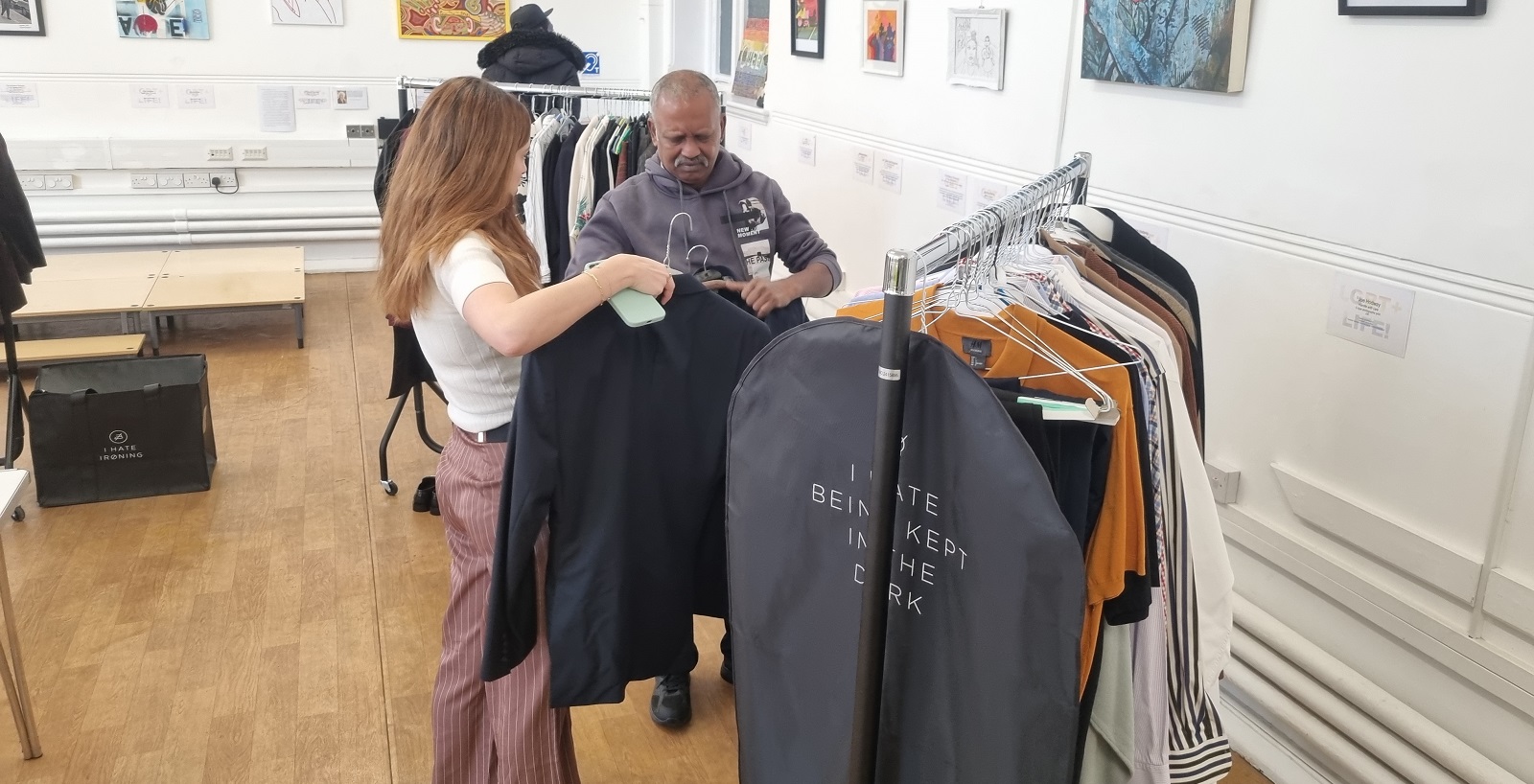 Lambeth's Brixton Library invited local people and community organisations to see what's on offer in their campaign working with London-wide dry cleaning company Ihateironing to help people in to work by loaning them outfits to wear to job interviews.
Borrowing for self-belief
In this cost of living crisis, jobseekers can fill in an online form and book an appointment to visit the Library basement to try smart clothes in front of a mirror, or browse the rails instead of having to find money for a suit and tie or professional blazer and skirt. Visitors also get a library card, giving them access to more jobseeking support such as using the library's computers.
Inspired partnership
The clothes – and the original idea – come from donations to on-demand laundry and drycleaning company Ihateironing. Founder Matt Connelly said: "We're in locations across London, but Lambeth is the first to work with us in this way. Customers asked if we could help with charitable donations of clothes, but we needed a partner with outreach links into the community. We're getting designer labels donated as well as plain dark outfits. The more people get to know about this way of helping people into work, the more donations we get."
Dressing for success
Lambeth Libraries said: "We've had people coming from far and wide to borrow interview outfits. The big change now is that people want shoes –  they can't wear smart clothes with old trainers. "
Word from the Cabinet
Cllr Donatus Anyanwu. Lambeth's Cabinet Member for Stronger Communities, Leisure and Sport, said: "When you feel good in your clothes, it helps boost your confidence in situations like job interviews. This partnership was seen to be really good news before Covid-19. Now, we want to show people the offer and the clothes, see how it works, and get involved in helping people get working and earning again."
More information
Matthew Connelly, Founder and CEO started ihateironing from his bedroom in 2014. Now, a network of local entrepreneurs and master cleaners helps facilitate the donation of clothes to the library.
Brixton Library regularly hosts events and initiatives to benefit local jobseekers, including workshops to help job seekers practice interview skills.
For more about ihateironing and Brixton Library Workwear Scheme, please contact mailto:reena@ihateironing.com or mailto:initiatives@ihateironing.com
To donate clothes to the scheme, please visit this page. To ask to borrow clothes (and give details of when you need them, your size, and what you're looking for) please submit this form.