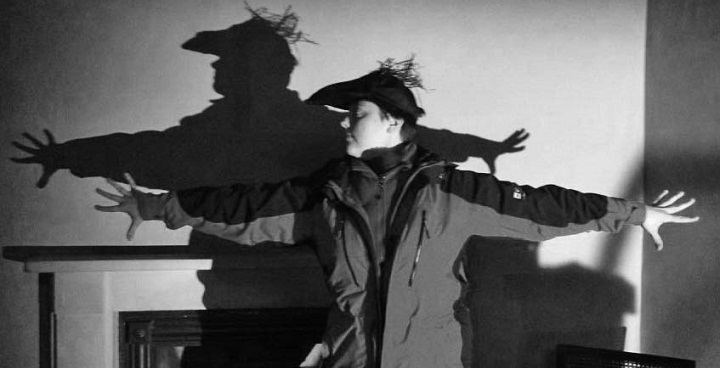 Groundbreaking Anglo-Polish live literature performance Snow Q visits Lambeth for one night only, at Clapham Library on Friday 21 February as part of Lambeth's LGBT+ history month.
Tale of friendship, love and loyalty
A re-imagining of Hans Christian Andersen's much-loved The Snow Queen. Snow Q combines poetry, drama, film, and original music. Inspired by Andersen's enigmatic tale of friendship, love and loyalty, it explores contemporary themes – social isolation, gender, sexuality, migration and exile.
Quest to rescue
At the centre of Snow Q are lifelong friends Gerda and Kai. When winter comes, ice enters Kai's heart; when Kai disappears, Gerda embarks on a quest to rescue them, meeting a wise, at times acerbic, Crow who tells stories in an extraordinary hybrid language, 'Ponglish'.
Language can transcend borders
Gerda and Kai are played by Anglo-Polish actors Rita Suszek and Maria Ziolkowska. Writer Maria Jastrzębska re-imagined the story with poems in three voices. Maria says "As a child I was greatly disturbed by the idea of ice falling into your heart. Could someone's tears melt it? I wanted to use this story to ask what it is that keeps us disconnected from one another and everything around us.  How do we truly communicate? Once ice has lodged in our hearts, can it melt?" Snow Q's originally composed music, film, sound design and poetry in English, Polish and "Ponglish" show how language can transcend borders.
Exploration of gender
The performance is part of LGBT+ History Month for its exploration of gender. This Gerda and Kai both identify as non-binary. "When I started writing I knew Gerda and Kai were not going to be traditionally girl-and-boy".
More information
Rita Suszek is an actor, comedian and poet. Credits include solo plays "Five Dresses I Never Wear" and "F*cking European". Maria Ziolkowska is an emerging actor from Poznan.
For more background on Snow Q's development, go to the blog and see an example of the video part of the performance
This production received an award from Arts Council England. It is supported by Lewes Live Literature, New Writing South and the Polish Cultural Institute.
The Crow poems have been highly commended and feature in the Forward Book of Poetry 2020.
For booking details for this show and many other events in LGBT History Month, download the brochure