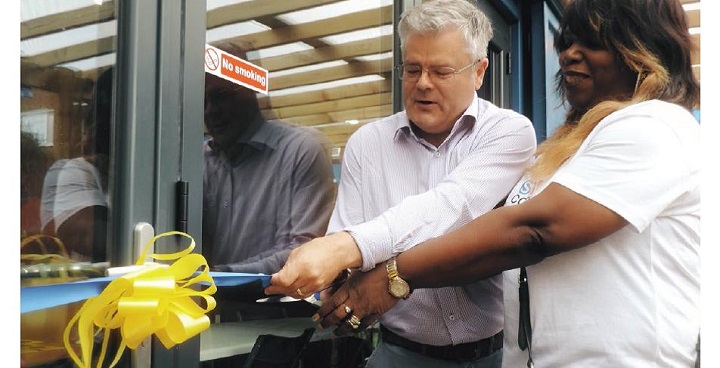 Councillor Paul McGlone cut the ribbons for Solon's new community hub and playground on the same day, sending a signal of hope to people who maybe felt 'we've tried to build community here before'.
Generating a buzz
It's already making a vast difference – people we only knew by sight are asking "what's going on in the hub? I want to be part of it"; wheelchair users and parents whose children have learning difficulties are saying "Will there be something for me?" It's our chance to say "Come on board, bring us your life experience, take a lead."
Work and playground
The old playground was well used – Lambeth's Estate Pride Team would never agree to replace the equipment otherwise – but only for one age group. Now we get bigger brothers and sisters picking up the little ones to put them in the swing, and the space includes a seated area for parents. Geoff, our vice chair, watered every night to make sure the grass was properly rooted so the playground could open for the school holidays.
What's happening in the hub?
We'll have digibuddies from Myatobe teaching older people how to shop online. Money advice sessions from Certitude, with a coffee morning to find out what help people need. Morley College are starting education sessions . And there'll be bingo, open to all.
Plans for young people
In the future, we want more for teenagers – maybe based on music – to get them together, get away from postcode turf wars.
Proof of concept
We're becoming a charity so we can get Lottery funding for two jobs here. We'll have to write reports to prove how we're using the hub to improve social cohesion, employability, and more. And we'll have a memorial plaque for Ivor Picardo from the Council, who did so much to make it happen.
Come together as a community
When I was young our doors were open, the community was always there. Now people lose touch with the community, we're not even sure who's living alone. The launch event for the new hub and playground reminded me how the community used to help each other – and how we can get that back.
---
More information
To contact Solon TRA contact the Chair, Lena Satih
To talk to someone about starting or developing a TRA in Lambeth Housing, email your Resident Participation Officer