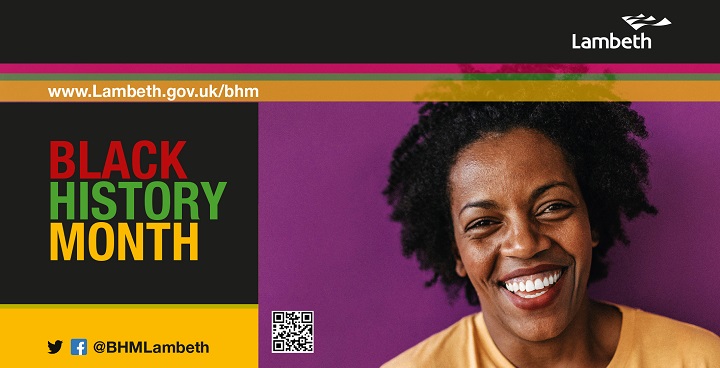 Lambeth Libraries Black History Month 2021 invites you to interact with culture through October. Book up and be part of something new from history everyday.
Word from the Cabinet
Cllr Sonia Winifred, Cabinet Member for Equalities and Culture said: "Last year many of you told us how inspiring and uplifting you found Lambeth Libraries' Black History Month celebrations. This year's programme is equally exciting with brilliant writers and artists.
"We continue to remember and support the Windrush generation and acknowledge their struggle for a right to remain and for compensation. The month includes something for all ages and tastes. Please take this wonderful opportunity to learn about and celebrate African Caribbean Heritage and Culture, which influence and enrich all our lives.  I hope you will join us."
History
Key moments in history – from slave rebellion in Jamaica with award-winning author Alex Wheatle to an eyewitness account of the Brixton Uprisings with Ayi-Kwei Sankofa.
Online, we've got weekly empowering talks on ancestry, enslavement, resistance and emancipation – inspired by six generations of Paul Crooks' family tree.
Rediscover London with a new guidebook shining much-needed new light on the rich Black history (left out of mainstream history) in over 120 sites.
Right here in Lambeth, we're featuring the Windrush Tradesperson Project, offering Human Library Windrush Performances unique to each reader, and walking in the footsteps of Black British radical leaders Cuffay and Wedderburn.
We're focusing on essays by 17 prominent Black Britons on Why Black British Lives Matter curated by RADA Chair Marcus Ryder and on Lee Lawrence's 30-year campaign against the injustice of CherryGroce's death.
Books, books, books
Culture
In addition to hosting a Black Business Fair and Black Culture Market, Lambeth's Black History Month offers:
More information
See full details and book live and online events