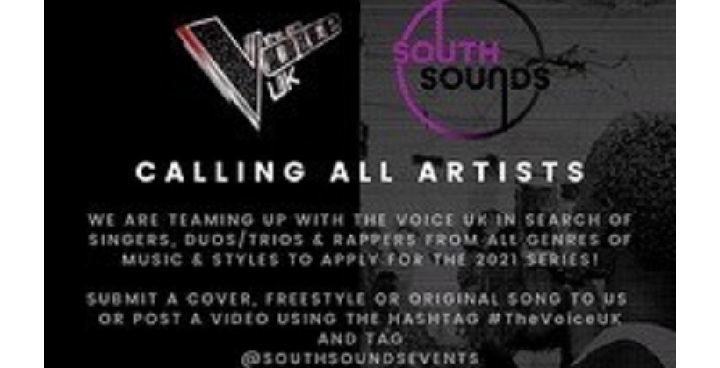 Lambeth's SouthSounds are working with the ITV's The Voice to conduct a talent hunt for the Voice UK 2021 series!
Community collective
Gaia Ahuja and Matty Chiabi started the community-based creative collective SouthSounds just two years ago. The idea was sparked when Streatham Space Project wanted to find a way to attract young people to the new creative hub in the heart of Streatham. "Southsounds then went on holiday and had to organise our first evening of musicians and poets in three days", says Gaia.
"It was like Fate when we got this message from ITV! Matty and I were thinking of ways we could interact with everyone during lockdown, like doing livestreams of the people who've joined us on SouthSounds and then we got an email from one of the producers asking us to conduct a talent hunt for the series next year. The producer said 'The Voice aims to include all styles of music including genres like Grime which we don't always see on TV but are a huge part of popular culture'
Open judgement
"The format of the Voice, with the judges' chairs turned away until they hear a voice they like, suits what we do – the same 'no judgement on looks or background, just talent' idea. I don't exactly know what and when the Voice will be broadcasting but for now we're watching all the applicants' videos – one song, original, cover, or freestyle,and artist must be at least 16 – and forwarding the best ones on a shortlist. I think SouthSounds gives The Voice credibility, with young people in places like Lambeth who wouldn't normally think they could be on television. We've got people nationally applying, and because everyone's sharing via their phones in this crisis, there's lots of video applications already in.
Next level
"We've got plans for after all this including workshops in schools about careers in the creative industries, event management artist management. We're also discovering new artists to perform at our events post lock-down. We started SouthSounds because we wanted young, talented people in our area to achieve big things – and this takes it to the next level!
For more information
To send in a video song, to support SouthSounds or find out more, apply by Friday 15.