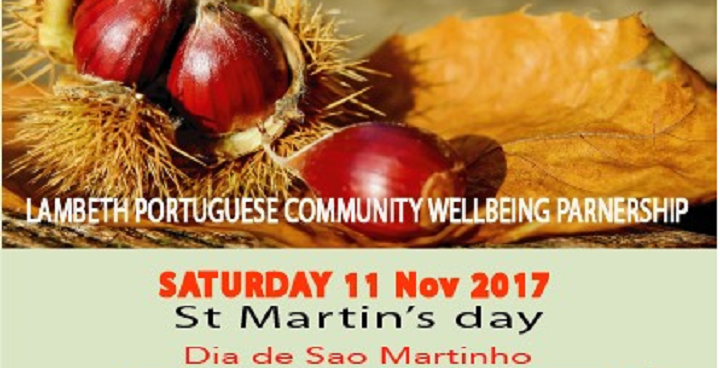 This year, Lambeth Council invites the Portuguese Community to celebrate St Martin's Day in both a traditional and a brand-new way. We're joining forces with the Lambeth Portuguese Community Wellbeing Partnership (LPCWP) to invite you, your friends and family to come and celebrate generosity, sharing and happiness with us at Reay Primary School, Hackford Road, London SW9 0EN on Saturday 11 November 2017 from 12 noon to 6pm.
Celebration…
On the day there will be free food, free chestnuts and:
Portuguese dancing
Folk singing
Music
Football
Films
Relaxation & wellbeing classes
… and information
 The Council's Borough plan and the Equality Commission are both geared to addressing the disadvantage that Portuguese speakers in Lambeth experience by. So the day will also feature Information stalls from
NHS Doctor/Pharmacist offering blood pressure and basic health check
NHS Self-care week – run by Lambeth Patient Participation Group Network
Lambeth Early Intervention Prevention Services (LEIPS)
Economic inclusion team
Age UK Safe and Independent Living (SAIL)
Carers Hub
Nutrition/Dietician
 Word from the Council
 Councillor Guilherme Rosa, Deputy Mayor of Lambeth Council, explained:
"Instead of myriad one-off Community engagement events for different Council programmes and activities – such as LEAP, Foster, Clip, Planning consultations, Vaux 1, and Oasis – we agreed to organise a mega-engagement event and bring everyone together – it's a huge opportunity for Portuguese speakers and the Council's partners to meet, get involved, and help each other."
Folklore
"I'm asking all recreative associations from the Community to organise something relating to folklore,  creating community cohesion through a union of efforts. I have also asked local Restaurants to offer food donations."
Next steps
As a partnership, we (Cllr Rosa and the Lambeth Portuguese Community Wellbeing Partnership) are committed to achieving our vision:  "To develop an innovative model of community working that aims to create a step-change in the health and wellbeing of Lambeth residents by integrating the Health sector with the Voluntary and Community Sector. Our initial focus is on the Portuguese Speaking Community in Lambeth but with the aim of developing a model that is co-designed with and supports the whole community".
Hearing to understand
From the event we are hoping to take an important step towards achieving our vision by gaining a much better insight into how to engage with the Portuguese speaking community, understanding what really matters to them and learning how best to work collectively to provide the information and support to address the inequalities facing the community.
---
For more information
You can read more about some of information providers and partners/supporters of the day on their information pages: