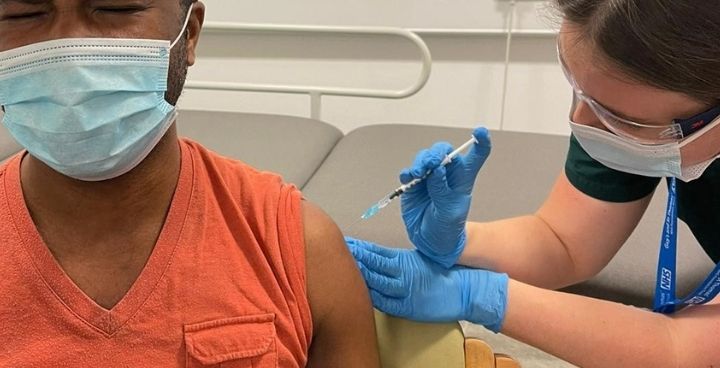 Ese Iyasere works for Lambeth Council as a Public Health specialist for protection and has been front and centre in the council's response to the Covid-19 pandemic over the last 12 months.
He initially had several questions about receiving the vaccine but after speaking to medical professions he shared why he thinks it is important for BAME residents to make an informed choice and ignore misinformation.
Residents who want their own questions answered can use the borough's single source Q&A about getting vaccinated.
Frontline response
In the early stages of the pandemic, I was involved in devising guidance around the use of Personal Protective Equipment (PPE) and working with care homes to minimize risk to staff and residents.
More recently I have been working with NHS colleagues in Lambeth to support the role-out of the vaccine, supporting the council's test and trace teams and enhanced testing against new Covid-19 variants in the borough.
Overcoming concerns
Being black myself, I understand first-hand, the genuine history of mistrust, the fears, the anxieties and the confusion some black people and people from minority ethnic groups will rightfully feel. However, there is hope. Each of us has the power to protect ourselves and to help slow the transmission. I had my own questions but I spoke to people who are experts in their field.
Vaccination experience
I know first-hand how disruptive attending hospital can be, I feared I would have to wait a long time on the day to get my vaccination. The staff were very welcoming and friendly. My vaccinator was in no hurry and she answered all my questions.
I was interested in the potential side effects of getting the vaccine, so I asked her what she had seen. But she had not seen any adverse effects from people at all.
Some people made feel mild side effects like a sore arm or tiredness after being vaccinated but when you weigh that against the risks posed from the disease itself, it's a small price to pay.
In total, I was there for 25 minutes and that included the 15-minute waiting time after you are vaccinated. There were a lot of other people but there were no problems and lots of staff on hand to match the number of patients. I had my own appointment and was seen straight away.
I felt I had taken the first step to reclaim my old life as I used to know it. The rest will come over time. I can see the light at the end of the tunnel.
Advice for others
Now that Covid-19 vaccinations are available, speak with trusted healthcare professionals like your GP or your local community pharmacist to learn more, and encourage your family to do the same.
Don't listen to scare stories on social media, take the time to ask questions to find out facts for yourself.
This vaccine has the eyes of the world on it, everyone has been watching and monitoring its progress. In my opinion, this could be the safest vaccine that the world has ever seen because of the level of scrutiny around it.
Protect yourself, protect your family and protect your community. Don't let misinformation put you or your loved ones at risk.