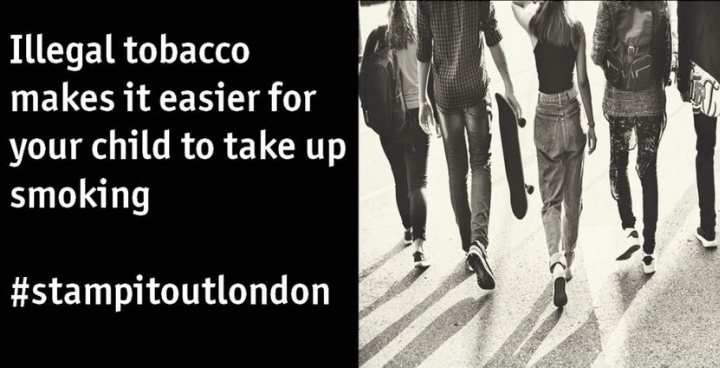 Criminals are reaping in over £100 million a year from London's trade in illegal tobacco and undermining efforts to support smokers to quit. Lambeth is not immune.
What is illegal tobacco?
Illegal tobacco products (such as cigarettes and hand-rolled tobacco) that have been smuggled/bootlegged (duty-free) into the country or are fake/counterfeit.
They are considerably cheaper than what is sold legally with prices ranging from £3.50 to £7 per packet. The sale of single cigarettes – 'singles' is also illegal.
What to look out for?
Tell-tale signs of illegal tobacco include:
Packets with foreign language health warnings
No pictures or old style health warnings
Being much cheaper than normal cigarettes (i.e. £3.50 – £7.00 per pack of 20)
Branded instead of plain packaging
Unusual or foreign brand names, such as Jin Ling – or those from Russia and the Far East.
Illegal tobacco has been found in a range of shops across London, hidden in secret locations such as holes in the staircase, beneath shop floors, on back shelves, or hidden away in nearby parked vehicles. Private homes are also used to sell illegal tobacco in London as well as pubs, nail bars and cafes. Illegal tobacco is also sold on the street by illicit traders.
Why is it a problem?
Availability of illegal tobacco and the sale of singles makes it more likely that children will start smoking and damage their health.
It also has strong links to strong links to low-level and large scaled organised crime. With many of the people involved smuggling, distributing and selling illegal tobacco are also involved in drug dealing, money laundering and people trafficking.
Further information
Join us on 29 July 2019, when our Trading Standards along with Public Health colleagues, will have a sniffer dog Roadshow unit situated at Tunstall Road opposite Brixton tube station from 10am to 4pm with more information on illegal tobacco and help with how to quit smoking.
Word from Cabinet
Councillor Paul Gadsby, Cabinet member for Housing
"The illegal tobacco trade is a destructive and nasty part of organised crime that hurts the community, business and the health of vulnerable residents. It's most unpleasant impact is that it undermines efforts from the NHS and others to help people give up smoking. I would urge anyone who suspects it is happening on their street or community to join our Stamp It Out campaign and report it to the council."
---
Do the right thing
If you suspect illegal tobacco and or single cigarettes are being sold, contact the Citizens Advice Consumer Helpline 03454 04 05 06 or via the website at Report consumer crime.