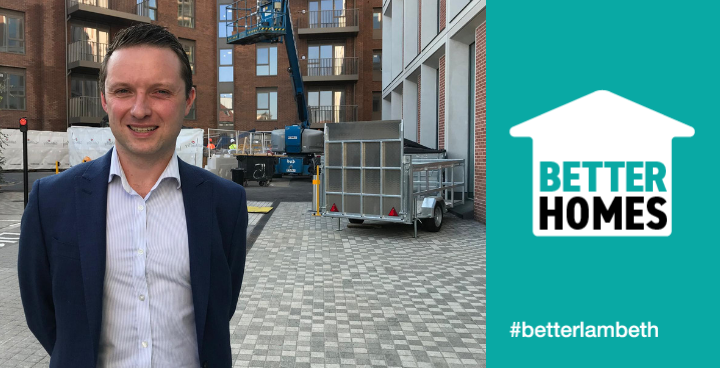 Cllr Gadbsy, along with Lambeth's Private Sector Housing lead Cllr Anna Birley, has written to the Secretary of State for Housing, Communities and Local Government, welcoming the forthcoming consultation on the abolition of Section 21 of the Housing Act (1988), which would go some way in ending the practice of no-fault evictions by private landlords.
'Long overdue'
Cllr Gadsby said: "The government's announcement is long overdue but is a victory for renters and local councils like Lambeth who have been campaigning to highlight the misery inflicted on thousands of renters by Section 21 legislation.
"This part of the Housing Act (1988) allows evictions, often on flimsy grounds, by unscrupulous landlords and is symbolic of the lack of rights currently given to private sector renters.
"While the commitment to abolish Section 21 is a step in the right direction, the opportunity for wider reform has to now to be seized by ministers.
"Alongside Lambeth's Private Rented Sector lead, Cllr Anna Birley, I have written to the Secretary of State for Housing, Communities & Local Government to ask not only for the abolition of Section 21 to be carried out as quickly as possible, but for the planned consultation to be expanded.
"We need to look at the funding allocated by the government to local councils to oversee the private rented sector, the issue of rocketing rents and more broadly the rights of renters which are currently not sufficient.
"In Lambeth, we will be consulting shortly on a private renter sector, asking residents what they want from their council. And we will continue to take action on rogue landlords as well as introducing licensing schemes where possible.  The government should take Lambeth's lead and use this announcement as an opportunity to carry out a revolution in renters rights."
Cllr Gadsby's letter can be read in full below.
Dear Secretary of State,
We are pleased that you have announced the intention of the government to abolish Section 21 of the Housing Act (1988) following pressure from organisations representing private sector renters, like Generation Rent, and councils like Lambeth. This is a positive step forward. However, we must ensure that the consultation is conducted swiftly; that the government acts decisively to end unfair evictions in the private rented sector; and that the consultation looks more broadly at the issues facing renters throughout our country.
The number of people renting privately in this country has doubled in the last twenty years. Our most recent research suggests that over a third of all dwellings in the borough are now privately rented, with the numbers likely to be even higher in areas like Brixton, Clapham and Stockwell. Yet this expansion has not been matched by effective national legislation to promote and protect the rights of private sector renters.
On Section 21, a report published by the Joseph Rowntree Foundation found that 80% of evictions were carried out using its provisions. This helps create a cycle of insecurity and anxiety among the thousands of private renters in Lambeth who live in fear that they may find themselves homeless through no fault of their own. This in turn then impacts further on local authorities such as Lambeth who are already under considerable pressure as a result of a decade of sustained austerity measures and significant housing pressures.
It is simply unacceptable that the provisions within Section 21 allow unscrupulous landlords to take away the homes of tenants for no reason. While the announcement of your consultation it is to be welcomed, it has taken too long to reach this point and it must be followed rapidly by a timetable for the repeal of this unfair piece of legislation that will continue to inflict misery on thousands of renters until it is abolished.
We would also hope, that unlike the original proposals in the recent Tenant Fees Act, this is a full repeal and there is no attempt to water down today's announcement.
Moreover, we would hope that the government treats this as an opportunity to hold a fuller inquiry into how the private sector operates in this country. At present, councils are hamstrung by continued budget cuts from central government which places a burden on their ability to supervise the rental market in their area, not least in recruiting enough staff to carry out vital monitoring work. Local authorities continue to have limited powers in many areas and on big issues, such as the rocketing levels of rent and the housing shortage, which remain unaddressed by the government.
Despite the constraints we face, in Lambeth, we are taking measures to improve conditions in the private rented sector by working with both tenants and landlords. Off the back of unprecedented research into the experience of renters in Lambeth, we are working up a private renter's charter to beef up the support and guidance the council provides. We are expanding our Houses in Multiple Occupancy (HMO) licensing scheme, using new powers to prosecute rogue landlords and we are naming and shaming the worst through a new scheme introduced by the Mayor of London, Sadiq Khan.
We already know from the feedback we have received from our residents that they want an end to Section 21 and for action to be taken on other issues that renters face. I hope that you will finally listen to renters and use today's announcement as an opportunity to begin a revolution in renters rights that finally gives this important part of our community the rights they deserve.
Yours sincerely,
Cllr Paul Gadsby
Cabinet Member for Housing
Cllr Anna Birley
Private Sector Housing lead