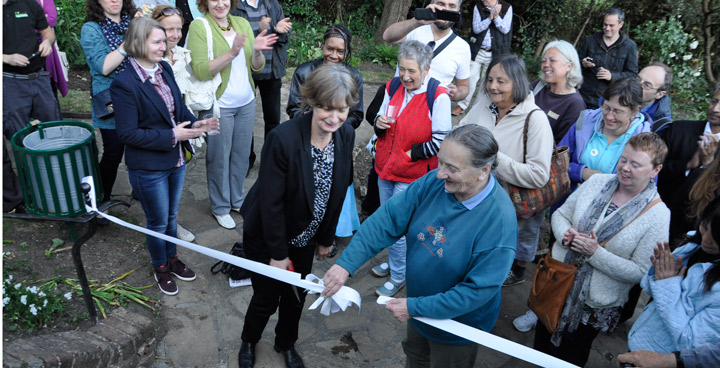 Over the past year, the Friends of Streatham Common have worked with a team of more than 40 volunteers to research and recreate this historic garden in Streatham. With funding support from the Heritage Lottery Fund grant, Lambeth Council and local partners, more than 230 plants and 1,200 bulbs, representing about 40 species, have been planted.
The White Garden was originally created in 1913 when The Rookery Park in Streatham first opened to the public. Sissinghurst Castle in Kent is widely believed to have the oldest White Garden in the UK but in fact Streatham's predates Sissinghurst by at least 30 years. To this day The Rookery remains the only White Garden – so called due to the white flowering plants it is made up of – in any of London's public parks.
The volunteers, many of whom are current or former students of Capel Manor College, London's land-based college, worked alongside Kew-trained garden designer Alison Alexander, to create a new planting scheme. The garden's horticultural heritage has inspired the new design and includes many historic plants popular when the White Garden was first created.
As part of the research, volunteers visited libraries and archives across London including the RHS Lindley Library, where they used the library's extensive collection of horticultural journals to find out about planting trends in 1913. The design group also visited gardens of the period and other white gardens for inspiration, including the Secret Gardens of Sandwich, Arundel Castle in Sussex, Sissinghurst, and a fully restored Jekyll garden at Upton Grey in Hampshire.
Many of the plants in the new design have been chosen for their historical associations in particular: Lilium regale 'Album', first introduced to the UK by plant collector E.H. Wilson in 1903; Cistus ladanifer, Leucanthemum x superbum and Matteuccia struthiopteris, evocative of the Arts and Crafts movement that inspired so many gardens of the Edwardian era. Other newer introductions have been chosen for their outstanding performance, such as the stunning climber Cobaea pringlei, and the 2003 hybrid Digitalis 'Camelot White', a contemporary take on a classic.
Kate Daly, a member of the design group, said: "I have been visiting The Rookery since I was a child and have always loved it here. I found it very sad to see the White Garden in a poor condition in recent years and I'm glad that local people have been given the chance to make a change. I hope our design will help people to see The Rookery with fresh eyes and rediscover just how beautiful it is."
The Rookery
In July 2013, The Rookery in Streatham celebrated its centenary as a public park. To mark the centenary, the Friends of Streatham Common launched a project to restore The Rookery to its past glory, to give local residents new reasons to be involved, and to learn about its history and horticultural heritage.
For more information, visit www.streathamcommon.org