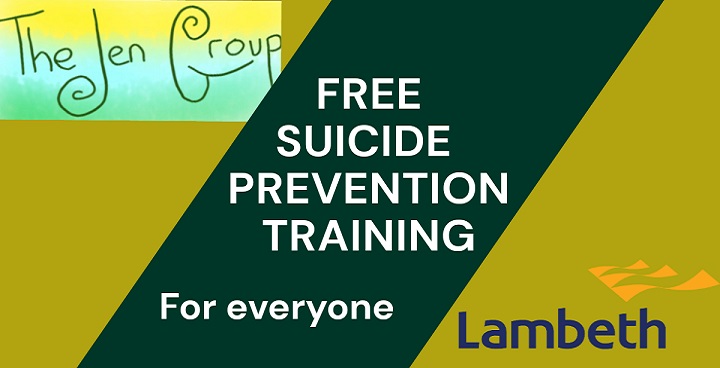 As part of Lambeth Council's commitment to reducing suicide in Lambeth, we have partnered with the Jen Group to deliver a half day suicide prevention training open to anyone who lives and works in Lambeth.
Lambeth in mind
This course has been designed with Lambeth in mind, to provide you with the skills and confidence to have conversations about suicide.
 Break the taboo
Suicide can be difficult to talk about, but it is essential that we all learn how to break the taboo and have conversations about it. This is how we can help save lives.
Talking and thinking
One in five people think about suicide at some point in their life. You're more likely to meet someone that's thinking about suicide than someone having a heart attack, so it's vital that we know what to do. Only when people feel like they can talk about how they feel, can they start thinking about how to keep themselves safe.
Toolkit for conversation
This course will explore why people think about taking their own lives and provide a toolkit to guide you through a conversation with someone that is thinking about suicide. We will also think about the impact on you when you have these conversations, and how to look after yourself.
Your trainers from Jen are highly experienced mental health and suicide prevention trainers who make their courses safe for anyone to attend.
Book your training
The course will run every month till February 2023 on the following dates:
25 May 1.00-4.30pm
21 June 9.30-1.00pm
30 June 9.30-1.00pm
25 July 1.00-4.30pm
27 Sept 1.00 -4.30pm

19 Oct 9.30-1.00pm
30 Nov 1.00-4.30pm
8 Dec 9.30-1.00pm
27 Jan 1.00 -4.30pm
22 Feb 9.30-1.00pm
To register interest go to the Eventbrite page
The course is delivered online via Zoom.
Please note that if you have been recently bereaved by suicide, or are currently having thoughts of suicide, you may want to attend at a different time, as this is a training course rather than a therapeutic space.
More information