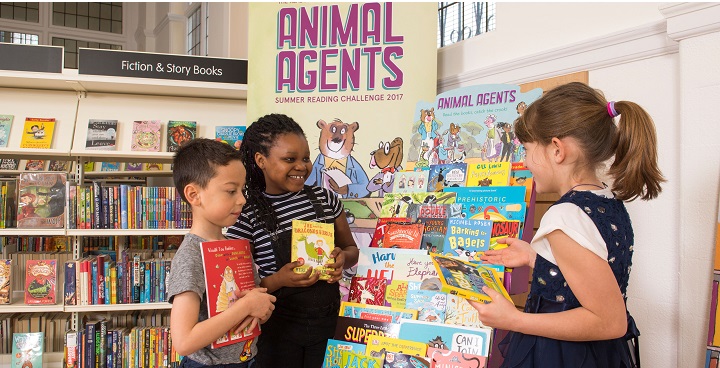 The 2017 Summer Reading Challenge theme is Animal Agents with artwork by fantastic Horrid Henry illustrator Tony Ross. Children sign up to read at least six library books over the school holidays and collect special rewards along the way. They can use the Summer Reading Challenge website to keep track of the books they've read, write book reviews, enter competitions, chat to other readers and much more.
You can sign up at your local library, then read six library books of your choice to complete the Challenge. There are exclusive rewards to collect along the way, and it's FREE to take part!
Animal Agents
Animal Agents is a detective agency staffed by all kinds of clever animals – furry, scaly and slippery – out to crack the case with a little help from their friends. As children read library books on the Summer Reading Challenge, they receive a host of stickers, some with mysterious smells. By collecting the stickers on their collector folder, young readers help the Animal Agents find out what's really been going on behind the scenes! Animal Agents is a must for all eagle-eyed kids and will test their skills and ingenuity along the way. With the Agents on their side, solving these mysteries comes with a large helping of fun!
Summer scheme
This national reading scheme is aimed at children 4 to 12 years of age. The fun begins on Saturday 15 July and runs through to Sunday 17 September 2017.
---
More information
The Summer Reading Challenge website isn't just for the school holidays – it helps you keep track of your reading all year round: find new books to read, take part in competitions and play games. Visit the Summer Reading Challenge website to find out more.
Lambeth Libraries
Brixton Library, Brixton Oval SW2 1JQ. Tel: 020 7926 1058
Clapham Library, Mary Seacole Centre, 91 Clapham High Street, SW4 7DB. Tel: 020 7926 0717
Durning Library, 167 Kennington Lane SE11 4HF. Tel: 020 7926 8682
Streatham Library, 63 Streatham High Road SW16 1PN. Tel: 020 7926 6768
Tate South Lambeth Library, 180 South Lambeth Road SW8 1QP. Tel: 020 7926 0705
Waterloo Library, The Oasis Centre, 1 Kennington Road, SE1 7QP. Tel: 020 7926 0750
West Norwood Library, The Old Library Centre, 14-16 Knights Hill SE27 0HY Tel: 020 7926 8092.
Upper Norwood Library, 41 Westow Hill SE19 1TJ. Tel: 020 8670 2551
Schools
Getting involved with the Summer Reading Challenge can benefit your pupils. Information for schools taking part in the Summer Reading Challenge.
Reading Hack
Aged 13-24? Volunteer in your local library to support the Summer Reading Challenge and help children read. Visit the Reading Hack website or contact your local library to sign up.