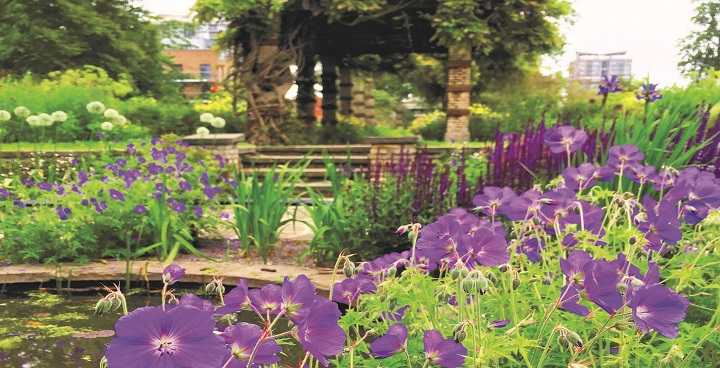 The Friends of Kennington Park work closely with the  Lambeth Parks team to improve facilities, involve local communities and keep the park clean and safe.  Now, Kennington Park is a finalist in Tesco Bags of Help and is keen to get as many shoppers' votes as possible during March and April – the grant of £5,000 will allow us to do many more things, if we win.
Centuries of local history
Kennington Park is full of fascinating history including the 'workers cottage' designed by Prince Albert for the 1851 Great Exhibition. A park here was first mentioned in official records in 1600, and in 1854 Kennington Park was formally created, it was the first public park in south London with several fountains. Tragically, during World War Two,  100 people died in the park's air raid shelter, Lambeth's worst wartime incident.
Culture
Bob Marley played football in the park when in London recording the classic Exodus album and scenes from the 60s Michael Caine thriller The Ipcress File were filmed here.
Campaigning
Politics is also part of the Park's history, including hustings for the 1832 Reform Act and the 1848 mass rally of the Chartists calling for major political reform. The park hosted Gay Pride for the first time in 1986 and the 1990s Poll Tax March started here. In 2007 the park hosted commemorations of the 200th anniversary of the abolition of slavery/
Friends of Kennington Park
The Friends of Kennington Park campaign and fundraise to improve the park. Since 2002, the monies raised have paid for fitness and play equipment, new flower beds and the restoration of the Flower Garden.
The park has been awarded a Green Flag every year since 2011, this recognises the best green spaces in the country. With your votes, the 'bags of help' funding could help us:
improve play and sporting facilities
go towards restoring park features such as fountains
increase flower and tree planting to promote wildlife
extend our programme of community and educational events – bat walks, history walks, herb walks
work more closely with our diverse communities to get their input to future plans
---
For more history see  www.kenningtonpark.org
Check out  our diary of Spring and Summer events
To contact the Friends of Kennington Park, email the Chair Marietta Crichton Stuart – friends@kenningtonpark.org