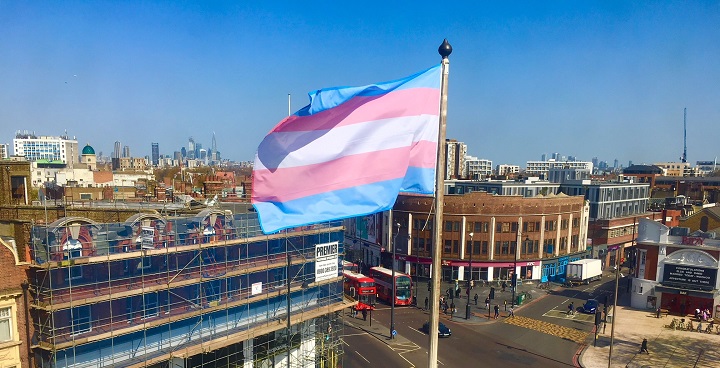 "A day once a year when we have International Trans Day of Visibility (TDoV).  We celebrate trans, non-binary and gender diverse people and our allies. You know that saying ,'We are Stronger Together'. Well, this year, it has never been so true. We have achieved so very much, despite facing such adversity – which can be and is exhausting, tiring, and can have a negative impact on health and a sense wellbeing.  And to top it all, we have COVID-19 to deal with.
We Are Not Alone
"Although it really can feel like we are at times. Especially with the isolation that can co-exist with being trans.  The barriers that we can face every day – just by being who we are can be harder than a brick wall. It seems that in 2021 we have more allies than ever.  Surely, that is a win-win situation.
Sex. Relationships. Sexual Health and Wellbeing South London
"For the first time ever in 2019, CliniQ C.I.C. together with King's College Hospital created a partnership for an integrated service that started to change trans, non-binary and gender diverse people's access to health, wellbeing, sexual health and HIV in South London, commissioned by Lambeth, Southwark and Lewisham (LSL).  The service puts trans people at the centre of their health.  It is not just a trans aware service. CliniQ is a Trans organisation, a team of trans people who are professionals – and we are rooted in our communities.  We have all faced the same issues, similar lived experiences, same barriers.  Our team also includes people who self-identify as cis gender – see, we are diverse.
So, We Are Not Alone
"King's College Hospital along with LSL, have again shown their commitment, support, and investment in trans people's health and wellbeing for two more years – that makes four years from 2019 to 2023. That is not just fantastic – it is a genuine commitment in trans people. True allies!  Thank you to my colleagues at CliniQ C.I.C.for all the dedicated work you do, and thank you to the incredible King's College Hospital team: the doctors; the nurses; the front of house team, who keep everything running smoothly.  You will meet them when you visit the CliniQ with King's Tuesday service.  Please say, "Hi!" to them because they are wonderful humans."
More information
The CliniQ at Kings' sexual health service is delivered in partnership between Kings College Hospital and cliniQ (a community interest company that provides a range of support for trans and non-binary people). The service offers a range of health and wellbeing initiatives to meet the needs of trans people, including STI testing and treatment, contraception, counselling, cervical screening, hormone testing, hormone injection and advice, sexual assault support, hate crime support, housing advice and access to HIV prevention strategies such as PrEP. Although the focus of the service is on sexual and reproductive health, it takes a holistic approach and works with other relevant services such as primary care, mental health services and social services. The service is funded by the London Boroughs of Lambeth, Southwark and Lewisham.
Find more about CliniQ via their information pages