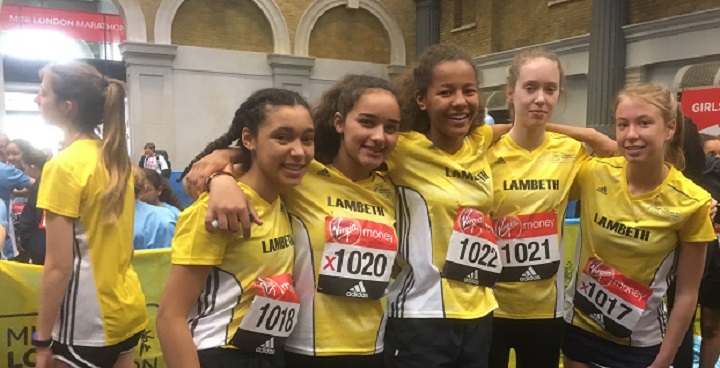 The Mini London Marathon is on Sunday 22 April, the same as the London Marathon. We're looking for people aged 11 to 17 to join Team Lambeth to complete the last 5k (3.1 miles) of the main Marathon route through London's streets, from Old Billingsgate to the Mall, running from Blackfriars along the river and past iconic landmarks like Westminster Cathedral, the London Eye and Buckingham Palace. For you, it's a great chance of earning a commemorative medal, the memory of a lifetime, and a significant achievement for your CV. Lambeth Council's Sports and Leisure Team will organise getting you there and back and provide your bespoke Lambeth running t-shirt. First, we need to put the team together.
Step 1: Register
This year we're picking the team online and using parkrun for you to register your qualifying time. Register your intention to trial for Team Lambeth via snapsurvey: we will send you a link through which you register your qualifying time.
Step 2: Parkrun
Once you've registered your interest, you need to register with parkrun to get a barcode by email. Take that barcode to any 5k parkrun on 3, 10,17 or 24 March . Or go on more than one Saturday parkrun and send in all your times Because team membership is open to people who were born in Lambeth, moved away, and still want to represent the Team, they can send in times from local parkruns. If you're local to Brockwell Park, you can do your parkrun there.
Step 3: Team selection
Team Lambeth will include 6 runners in each of the following categories:
Under 13 – Male and female
Under 15 – Male and female
Under 17 – Male and female
You need to check that you're inside the birthday guidelines.
Step 4: Our team supports you
Running doesn't have to be your main sport for you to qualify for this 5k. The squad will be chosen immediately after the final parkrun trial on March 24 and selected runners can expect an email on Monday 26 (or shortly after).
---
For more information
London Marathon
For more about being part of Team Lambeth in the 2018 Virgin Money Giving London Mini London Marathon, please contact the Sports and Leisure Team at Lambeth Council. Email
SportsandLeisure@lambeth.gov.uk  Tel: 020 7926 0396 or 020 7926 6065.
Parkruns
5k Parkruns are every Saturday at 9am. For details of your local course route see their information pages.
To register online for your trial at 9am on Saturday on March 3,10,17 or 24 run use the snap survey portal
Team Lambeth
See Team Lambeth at the 2017 London Marathon on BBCTV