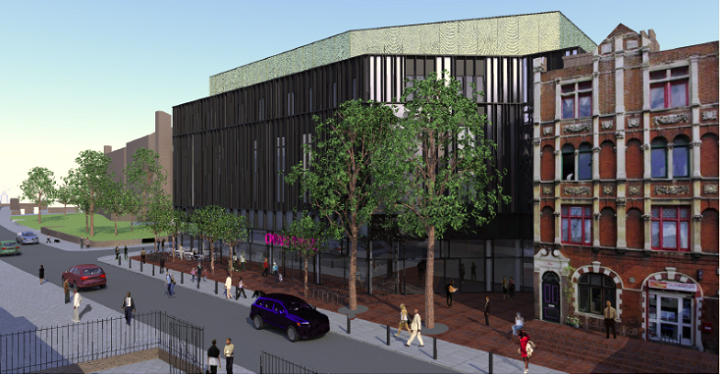 OVALHOUSE theatre's move to Brixton is about to take a big step forward with contractors being invited to bid for the first phase of the Somerleyton Road regeneration scheme.
The move to progress the first two blocks of the Somerleyton Road project will see Lambeth Council and Ovalhouse, supported by development manager Igloo, start the process this month to procure a contractor for the development of the theatre and the adjoining building Carlton Mansions.
Ovalhouse, which is currently based in Oval, has built its reputation on supporting new artists, working with young people and communities and putting on great shows.
Deborah Bestwick, Ovalhouse Director, said: "We now need a more suitable base to fulfil our potential. We want to support young people's projects, have proper rehearsal space for talented theatre companies, run training and have affordable units for small scale creative enterprises.
Ovalhouse has been looking for a suitable site in Brixton for more than 8 years, and Somerleyton Road is the ideal site. I'm excited that we are about to take this important step on the road to realising our ambition for Lambeth and its communities."
The first phase of the scheme will emphasise preserving the heritage assets, including the Nuclear Dawn mural and façade of Carlton Mansions. It is hoped that work on the site will start In Spring 2018 and construction of the Theatre should complete in Autumn 2019.
Under the wider Somerleyton Road project the local community and Lambeth council are coming together to build a street for all ages which will be designed and managed in partnership with the people who use it. A place where the community and businesses can thrive in the centre of Brixton.
Brixton Green, a local community benefit society with over 1,300 members, Ovalhouse Theatre and the council have been developing plans to bring more than 300 new homes, a theatre, a nursery and more to Somerleyton Road.
Cllr Paul McGlone, Lambeth council's deputy leader, said: "This is an important step in our ambitions for Somerleyton Road. Arts Council England are preparing to invest £3million in the new theatre and we want to move forward to ensure this key part of the development can happen as soon as possible
"An assessment of how the council, Brixton Green and the community can achieve the next phase of this scheme is expected to end in the Summer. Procurement for the next phase of the scheme is expected to be launched shortly after that assessment concludes."
Dinah Roake, Chair of Brixton Green said: "We are extremely pleased that this first phase of Somerleyton Road is finally moving forward with Ovalhouse theatre. Over 9 years, we have been working to put Brixton people at the forefront of redeveloping this part of Brixton, making new homes and developing our streets to makes peoples' lives better.
Brixton Green looks forward to continuing the work with the Council to deliver the next stage of this ground-breaking project."