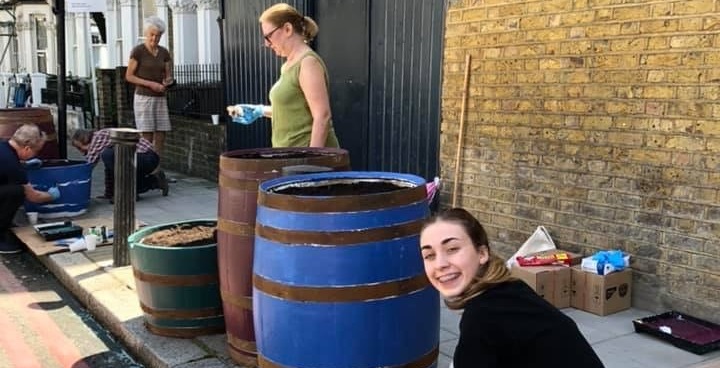 Helen Carrier of Tradescant Road Residents Association explains how she and her neighbours started a community environmental project. "I applied to the Veolia recycling fund for communities for a grant to enhance the local area, and attempt to bring the community together and affect a positive behaviour change in visitors to the street through  marking it out as an unmistakably residential area and discourage some of the anti-social behaviour that the night-time economy often brings.
Overcoming social problems
"There's a lot of antisocial behaviour in Tradescant Road  –  a huge amount of noise throughout the night, drunkenness, drug taking and littering. The littering then attracts fly-tipping and collectively it has a detrimental effect on the wellbeing of local residents.
Historic gardens
"We also wanted to honour the historic site where we live. Tradescant Road is built on the gardens of the John Tradescants (father and son, plant collectors, naturalists, travellers and gardeners to 17th century Kings and Queens). Research was done with a view to populating the planters with specimens that we believe they introduced to the UK and grew on the land on which our street has been built.. The plants include Tradescantia spiderwort, acer, lily of the valley, corn poppies, pieris, ranunculas, daisies, tradescantia pallida, and more. Then  invite the whole community to add any plants they would like to grow in the street.
New gardening
"The freshview started at 6.30pm on Friday, unloading old whiskey barrels for planters, lining and undercoating them. Saturday was positioning, filling, painting, planting. It was about 80 hours work in total.  The community from different streets came together and there were about 20 volunteers in all. It was hard work but fun!
People power
"It was amazing how many people passing by asked about the project and the positivity that surrounded the work on the street. People were interested in the community coming together to build something that everyone can enjoy. We learned we have a garden army and a lot of people with a keen interest in the Tradescants.  We would like to get a plaque recognising the Tradescants on our street."
For more information
For more about Tradescant Area Residents Association (TARA) see their information pages or follow them on Facebook
For more about the Freshview partnership between Lambeth Council and Veolia, see the Council's web pages
For more about John Tradescant the elder and the younger, their plant collecting travels, and their connection with Lambeth, see the Garden Museum's web pages