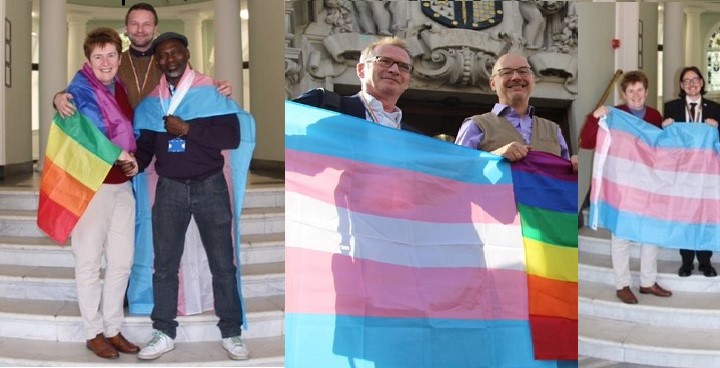 Lambeth will mark International Transgender Day of Visibility – Sunday 31 March – by flying the pink, white and blue Trans flag at the Town Hall from Thursday 29 March to Wednesday 3 April.
New health facility
Lambeth Public Health are also working with the Camberwell Sexual Health clinic at King's College Hospital and with CliniQ to launch a sexual health clinic for trans people in Lambeth, Southwark and Lewisham.
Staff train to give trans people better frontline council services
To help increase awareness within Lambeth, frontline staff are being offered Trans awareness training sessions to help them to be better able to support trans residents. There will be training sessions throughout the next 12 months, with the first this week. The trainers are Gendered Intelligence who have supported Trans people and run training sessions to increase the understanding of gender diversity for over 10 years.  The course includes:
The Wider Context
Sex, gender and sexual orientation – how do they interact?
Language and Terminology
What does 'trans' mean?
The diversity of trans lives
Key terms
Straightforward guidance on managing language
The Law and Trans People
The Equalities Act (2010)
The Gender Recognition Act (2004)
How might Trans people be discriminated against or harassed?
Becoming Trans Aware and Trans Inclusive
Common good practice in trans equality and inclusion
The real experiences of trans people
How trans might appear in your workplace – developing a positive approach and confidence
This is a joint project between Lambeth Public Health and HERO/GMFA, a local LGBT voluntary sector organisation.