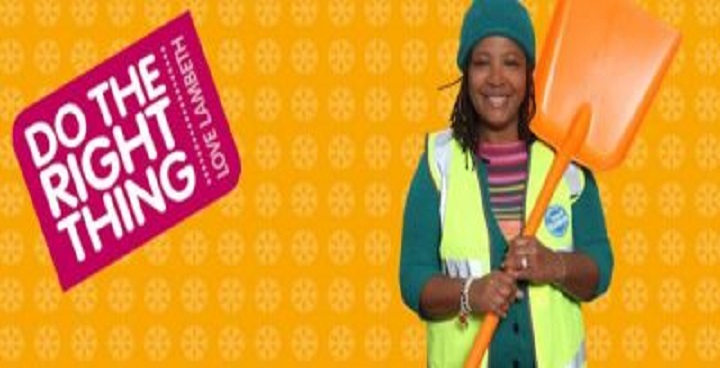 Lambeth's many brave Snow Wardens are once again dusting off their shovels and grit bins in preparation for whatever the unpredictable British Winter can throw at them.
Snow or No-show?
As usual, the newspapers and weather websites have been churning out their annual predictions of apocalyptic ice and snow. It could be the most savage winter for years, or it could be another snow-free affair like last year (and the year before). The only thing we're certain about is that nothing is certain.
Whatever happens, Lambeth will be ready. Every time the road surface looks set to reach a particularly chilly temperature, Lambeth mobilises its street cleansing contractor Veolia to spread grit on streets and pavements. They concentrate on busy shopping areas, steep hills, and pavements near schools, doctors' surgeries and hospitals. However, the council can't cover the whole borough – if Lambeth's roads were all arranged in a straight line they'd stretch all the way to Lisbon and back. That's where Snow Wardens come in.
Pavement heroes
Snow Wardens are volunteers who want to help their community by keeping pavements safe in winter. The council provides grit, a snow shovel, gloves, a high visibility vest and ice grips for shoes, as well as a brief induction to ensure volunteers carry out their work as safely as possible. There are more than 200 Snow Wardens in Lambeth, and feedback shows that the lack of decent snowfall in recent years has made them keener than ever to get stuck in this winter. It can be very gratifying, as Claire discovered after spreading grit on her local pavements: "Several people thanked me on the way – a very satisfying experience all round".
I 'Warden' mind helping my community, too
To sign up as a Snow Warden and receive your equipment and training, send an email to SnowWardens@lambeth.gov.uk.