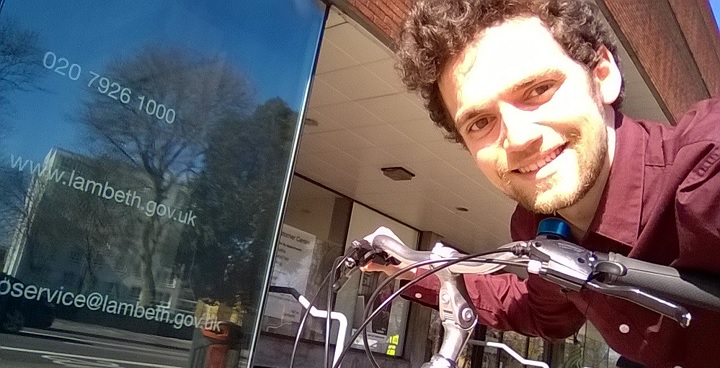 If you live or work in the borough you can borrow a bike for £10 for 4 weeks and use it how you like. Store it at home, ride it to work or the shops and even buy the bike at the end using a repayment plan and a hefty discount! If you live a bit too far away or at the top of a hill we are now offering electric bikes to trial. Paul tells his story….
How long have you been working for Lambeth, what do you do and where are you based?
I've been working for Lambeth for just over 6 months. I'm on the graduate scheme, a great two-year programme that takes you through four different placements within the Council. I started over in Olive Morris House working first in HR, then in Policy. Now I'm in International House working in the Children's Improvement Team, and really enjoying it.
What made you want to cycle to work?
I was quite nervous about cycling in London at first, as I'd heard it could be intense and even dangerous. I also didn't really understand cycle etiquette and rules here, and felt I'd probably do something wrong as soon as I started! I didn't own a bike, and I wasn't keen on making the investment unless I knew I'd actually enjoy cycling in London and use the bike a lot.
Luckily, when I started on the scheme, I realised how amazing cycling in London could be; it made me feel a lot happier and healthier every day I did it. I was outside, being active, and getting to know the local area – and I had a new feeling of freedom, being able to take detours and visit shops on the way. It was quite a change from the Tube – I began to feel more like an explorer, rather than a hostage. I still use the Tube sometimes to get across the centre of London, which is more hectic for cyclists, but for South London journeys biking has been safe and fun.
It doesn't hurt that the bike has almost already paid for itself in the five months, simply from the amount I've saved on transport fares.
How far do you come?
I live locally, it takes me about 10-15 minutes to cycle into work, or about half an hour if I'm going into Phoenix House.
Tell us a bit about your experience of loaning a bike through the Try Before You Bike scheme. Did you also do cycle training, how was that?
It's an absolutely brilliant scheme. Having a bike with a hi vis jacket, helmet, locks and bike lights all provided made me feel really safe when I started. I was offered free cycle training too with a really friendly instructor who actually lives just around the corner from me! I'd consider myself a competent cyclist but I signed up, thinking it would be useful to know the best practice in London.
In our first session, we cycled around a park before work and he gave me some useful safety tips and instruction. I had a meeting in Vauxhall the next week, so my instructor met me at Olive Morris House and cycled with me to Phoenix House on a beautiful route he'd mapped out himself! Not only did he show me a great and cycle-friendly way to commute from one office to the other, he also pointed out local landmarks and the best cafes; he was quite the tour guide.
At the end of it, I decided I couldn't go without cycling, and rather than worry about shopping around for a new bike, I bought the bike and all the gear they'd loaned me at a discount – I knew the bike well at that point and I paid via direct debit which made everything really easy.
When I lost one of my lights and had issues with my pedals, the Try Before You Bike team replaced the light and the pedals all free of charge, while also throwing in some tips about bike maintenance. So it goes without saying that I couldn't recommend the scheme more.
What improvements could be made to make your commute easier? Ie storage at home, infrastructure along the way, storage/facilities at work.
Having lived in Holland and Denmark, I've seen how much of an impact good cycle infrastructure can have. It not only makes cycling safer, it makes it more accessible. One of the problems I have with cycling in London is that it tends to be dominated by really quick, risk-taking young men – which makes sense because they're the ones who feel the most comfortable sharing space with cars and buses! I'm a slow, quite casual cyclist so find this culture a bit alien.
There are stretches of great cycling infrastructure in London, but it's inconsistently put together, with superhighway leading to quietway leading to motorway. Things are getting better, but without separate cycle lanes everywhere it still doesn't feel safe enough for a lot of people. I believe things are changing, and hope that one way cycling will be seen as an easy, healthy way for everyone, from children to the elderly, to get around in London. The safer it gets, the more people will cycle, which will make people feel more confident, reduce air pollution, and make pedestrians and motorists more aware of bikes, making it easier to cycle and encourage the creation of more cycle lanes – it's a virtuous circle. 
Have you got a funny or interesting story about your ride in?
I was spontaneously trying out a new shortcut when coming back to Brixton from Phoenix House last week, and ended up discovering a beautiful, intricate mural from the 1980s off a side street by Acre Lane. I stopped and admired it for a few minutes — I especially liked how it seamlessly incorporated the actual window of the house it was painted on!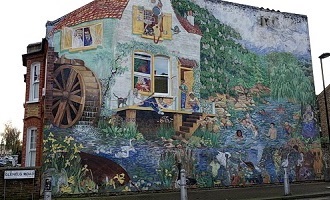 Later I found out that this "Big Splash" mural was inspired by the subterranean River Effra that flows beneath Brixton, pays homage to the talented women who worked in the Doulton pottery factory in Lambeth, and features some of the children who were living in that part of Brixton when it was painted.
It's just around the corner from Olive Morris House, but I'm sure I would never have found it if I hadn't been on two wheels.
---
Find out more
Visit our Try Before You Bike or Cycling In Lambeth pages to find out more.