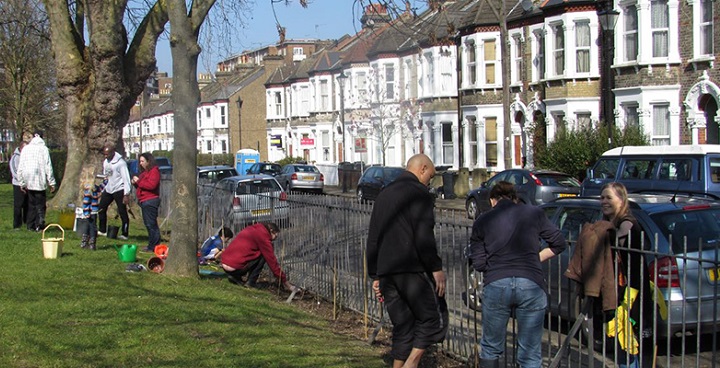 In a record-breaking year for the Green Flag Award, as the scheme marks its Silver Jubilee, Lambeth's Holmewood Gardens and Old Paradise Gardens are added to the 2,127 UK sites celebrating flying this coveted award.
First time winners
After 18 months that have seen all Lambeth's parks and green spaces play a vital role for residents through Covid-19 lockdowns as places to relax, exercise and meet friends and family safely, it's wonderful news that two more Lambeth spaces achieved Green Flag Awards for the first time.
Word from the Cabinet
Councillor Sonia Winifred, Cabinet Member for Equalities and Culture said: "I am absolutely delighted that we have successfully added Holmewood Gardens and Old Paradise Gardens to our portfolio of award-winning sites. This is another visible reflection of the passion and commitment site users, local residents, volunteers and stakeholders working alongside council staff continue to demonstrate in working together to provide all of those living and working in Lambeth, or visiting the borough, with an incredible diversity of safe, attractive and sustainable parks, commons and other public open spaces we can all be proud of".
Lambeth's 2021 awards
 Two new Green Flags mean Lambeth's grand total is now 19:
Green Flag Award: Archbishop's Park, Brockwell Park, Clapham Common, Eardley Road Sidings Nature Reserve, Hillside Gardens Park, Holmewood Gardens, Kennington Park, Milkwood Community

Park, Myatt's Fields Park, Old Paradise Gardens, Palace Road Nature Garden, Ruskin Park, St. John's Churchyard, St. Paul's Churchyard, Slade Gardens, Streatham Rookery, Vauxhall Park, Vauxhall Pleasure Gardens and West Norwood Cemetery.

Green Heritage Award: Brockwell Park and Kennington Park
Green Flag Community Award: Brockwell Park Community Greenhouses, Eden at St. Paul's Churchyard, and Windmill Gardens.
Any green space freely accessible to the public is eligible to enter for a Green Flag Award.  Awards are given on an annual basis and winners must apply each year to renew their Green Flag Award status.
Testament to hard work
Green Flag Award Scheme Manager Paul Todd said: "I would like to congratulate everyone involved in making Lambeth's sites worthy of a Green Flag Award. To meet the requirements is a testament to the hard work of the staff, residents and volunteers who do so much to ensure that each site demonstrates high standards of horticulture, safety and environmental management and are both places that supports people to live healthy lives."
For more information
The Green Flag Award Scheme is run by environmental charity Keep Britain Tidy, under licence from the Department for Levelling Up, Housing and Communities, in partnership with Keep Scotland Beautiful, Keep Wales Tidy and Keep Northern Ireland Beautiful.
Keep Britain Tidy set the standard for the management of parks and beaches, inspire people to be litter-free, to waste less and live more sustainably. Contact Helen Bingham, Keep Britain Tidy press office