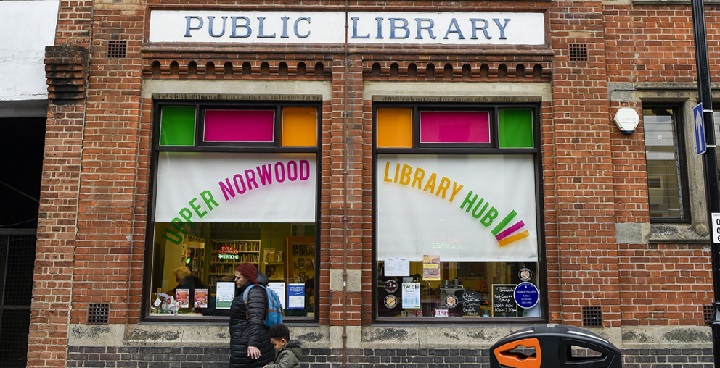 In summer 2016, the Upper Norwood Library Trust took over management of the building from Lambeth Council (although the library service is still joint funded by both Lambeth and Croydon Councils). It was an innovative move and one that has proved successful, with visitor numbers and book lending both increased.
Cllr Sonia Winifred, Lambeth Cabinet Member for Equalities & Culture, and a former librarian herself, said: "With Lambeth's funding from central government cut by around 56% from 2010, every area of council work has seen budget cuts. Our library budget was no different and we had to find imaginative solutions. An Asset Transfer of the building saves the council spending money on running costs and the library is supported by the fantastic Trust staff alongside a full time Lambeth librarian."
The Trust is both rooted in the local community and passionate about protecting and improving the library. Years of hard work in preparation for the Asset Transfer led to the handover being successfully completed and new programmes of activity, alongside the library, being established quickly.
The library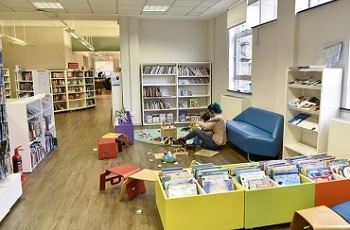 The library service, run by Lambeth Council library service, still takes up the vast majority of the building. It still provides a comprehensive stock of books that is regularly updated, alongside free wifi and IT facilities, quiet study space upstairs, a children's library, a reading group and the ever-popular Wriggle & Rhyme session for under-5s.  And it still attracts the diverse mix of regulars, young and old.
Emily Jewell, one of the two Hub directors, said: "It's important that the library is still the main focus of the building.  It's a trusted space, people feel safe coming here and we still see the same faces as before.  In fact, the community I think feels an even greater sense of ownership now."
Just after the handover, Lambeth Council paid for a comprehensive refurbishment of the building, to ensure the Trust wouldn't be met with any unforeseen costs and to make the building fit for an exciting future.
Emily's fellow Hub Director, Margaret Adjaye, said: "The refurb made a big difference, not only because it made the space feel new and enables us to hire out space easier and generate income, but also because it showed faith in the building and the Trust and the good vibes that come with that."
Expanded offer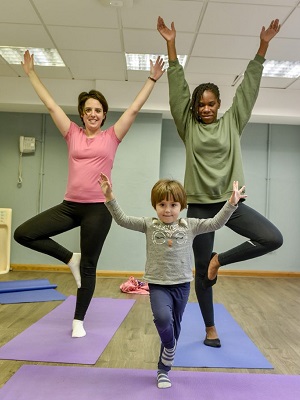 Alongside the library, and to make the project financially sustainable, the Trust have massively expanded the building's offer.  There is a studio room downstairs available for hire that is being used for activities such as mindfulness, training programmes and yoga classes. There is also another space in the basement that has just got a long-term tenant in place. Upstairs there is a larger room, ideal for large artistic activities such as life drawing, weddings, exhibitions, conferences, children's birthday parties, seminars or even Zumba and ballet. The front library space comes alive in the evening and can be used for dancing classes, talks and more.
As well as the physical spaces that can be hired out to generate income, the Trust run a whole range of events and services for the local community including ConnectingU free home-visit advice sessions for vulnerable people and energy advice sessions. There are also educational and skills based activities for young and old such as English for Speakers of Other Language (ESOL) classes, tutoring services for young people, a free homework club on Wednesdays and Thursdays,  a dementia café and meditation sessions.
'Core values of the Trust and the library'
"Obviously there is business potential but it's also important to keep it linked to the core values of the Trust and the library." Margaret said. "It's all about joint working, with and for the local community and alongside the library staff.  It's working really well so far, but it can be hard work. We are constantly fund raising and looking for sponsorship."
A match-funding grant was recently awarded by the Mayor of London for a 'Library of Things' in the Hub, with everyday items available for hire.  A space at the front of the building has already been set aside to allow people to come and pick up all manner of things from power tools to musical instruments. A bike hire scheme is also being established with the support of Cycle Confident and Lambeth Council's cycle training team.
Coffee shop
Another attractive feature of the new Hub is Norville's coffee shop, open right at the front of the ground floor. Set up by Pett Norville, the coffee shop began life as a pop-up offer after Pett taught herself how to make great coffee.
"I've always loved coffee and I've always loved talking to people – community really is at the heart of what I want to do," explained Pett.
"I used to be a social worker/probation officer. It was after a trip to Jamaica where I was introduced to Jamaican Blue Mountain Coffee – that was my first experience of drinking real coffee. My coffee drinking habit changed from then. It's gone down well and my customers seem happy – good customer service is key, and this is the perfect place."
So, what next for the Upper Norwood Library Hub?
"Well we want more and more activities and groups here, hiring out the space and bringing new things for the local community," Margaret said. "There is still more we can do and we need a lot of support to do this. To achieve the stability and sustainability we want for the library hub and for our community, we welcome donations, grants, contributions from corporates and sponsorships. All of this will help us invest in things our local community want, to keep the library running and to boost our local economy."
With support from organisations Power to Change, Society for Chief Librarians and Locality as well as the government's Libraries Taskforce, the Trust have established a National Network for community managed libraries and are keen to spread best practice across the UK.
There are a number of exciting learning events taking place, like Business Planning, Community Engagement and Volunteering, and Communication, plus the first national conference for Community Managed Libraries which will be held in Sheffield in March 2018.
The Trust are also on the look-out for new members.
Upper Norwood Library Hub is certainly a pioneer in its field, and could prove to be a solution to public funding cuts that are affecting every local authority in the country.
To join the Trust visit our blog page, you will also find links to the learning events on their blog page including links to how to book for an event: https://communitylibrariesnetwork.wordpress.com/ or email communitylibs@unlt.org.
To contact Emily or Margaret email them at info@unlt.org