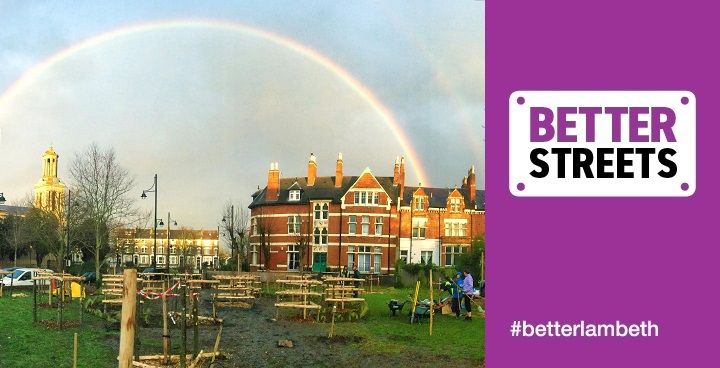 In spring 2017, Brixton-based Community Business Urban Growth redesigned the gardens of one Lambeth estate from a space full of 'no ball games' barriers into somewhere the community meets, plants, grows food, and learns more about gardening. They have followed up by working as regular partners with Lambeth's Housing Management team.
Working with residents
There are two sides to the business –  landscaping and food growing. One example of landscaping work to improve the environment is Tanswell Estate, near Waterloo. While residents are repainting the electricity substation on the site, Urban Growth are installing planters to get rid of dark corners and design out anti-social behaviour.
Urban landscape
They also worked with residents and with hardworking volunteers from Galliford Try to extend the life of the 'Children's Garden' next door to Brockwell Park for 10 more years: "there were exposed screws and loose stones in the path – it was the opposite of a child's garden, really, until this July."
Growing food
The food growing side has included support for all 11 'Edible Living' schemes run on Lambeth housing estates, including an autumn 'harvest festival' hosted by Edmundsbury Estate. People from eight different estates came together to share food including quiches and pickles made at home from ingredients like cabbages and mustard grown in Estate vegetable beds.
Urban orchards
The planting and care of fruit trees in Lambeth is also part of Urban Growth's work. British Airways' in-flight magazine shortlisted Brixton Orchard – with its mix of medicinal plants for humans and animals – as a 'must see' if you have only one day to spend in London. There are plans to plant a new urban orchard in Loughborough Junction to make an environmental bridge between the park and the city farm, with room for almost 30 trees.
---
For more information
Urban Growth Learning Gardens is a Community Interest Company (CIC) with a diverse and experienced Members Board, and a growing team of professional gardeners and instructors. All our work is guided by the principles of permaculture, to enrich the health of people and the planet together, even in the heart of London. We specialise in supporting people with a diverse range of needs, who may be socially isolated or face barriers to education and employment. Contact us via our contact pages to read more about our projects and training or come and see us in Pop Brixton.