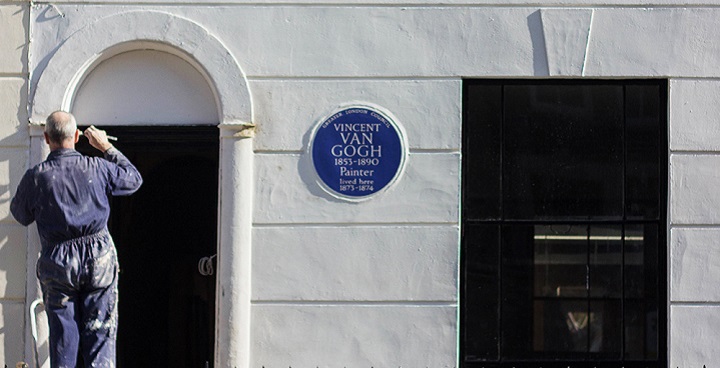 The Tate Gallery's Van Gogh and Britain exhibition links the painter's work to his three years in Lambeth – working as an apprentice picture dealer and getting started as an artist.
London culture
Van Gogh arrived in Stockwell in 1873, aged 20, keen to see London's culture. Now, 87 Hackford Road – the Van Gogh House – is about to open to the public and inspire new generations of artists.
Word from the Cabinet
Cllr Sonia Winifred, Lambeth Council Cabinet Member for Equalities and Culture, said: "We're delighted to see this strong link between Lambeth and the world's best-loved artist open to offer both a look into history and a place for contemporary culture to flourish."
The Van Gogh House
Van Gogh's time in Stockwell is thought to be some of the happiest of his life. In January 1874, Vincent wrote to his brother "I have a wonderful home and it's a great pleasure for me to observe London, the English way of life and the English themselves." It was here that he first fell in love – with Eugenie Loyer, his landlady's 19-year-old daughter. Although Eugenie rejected him, Van Gogh stayed in Lambeth, moving to Kennington Road – "a house quite covered in ivy".
 Original material
The Grade 2 listed house at Hackford Road has been painstakingly restored with original materials like lime plaster and horse hair.  A new artist's studio has been built in the garden The Van Gogh House will offer guided tours, with local volunteers and visitors walking in the artist's footsteps. A recently-discovered prayer book kept with papers dating from his time there is thought to be Vincent's gift to the house.
Inspiring the next generation
The Van Gogh House isn't only about history. Vincent sold only two paintings in his lifetime, but an artists residency programme aims to support artists with live/work spaces at Hackford Road and exhibitions at sister gallery the San Mei. It also aims to create a new cultural hub for Lambeth with musical evenings, poetry, theatre – and more.
For more information