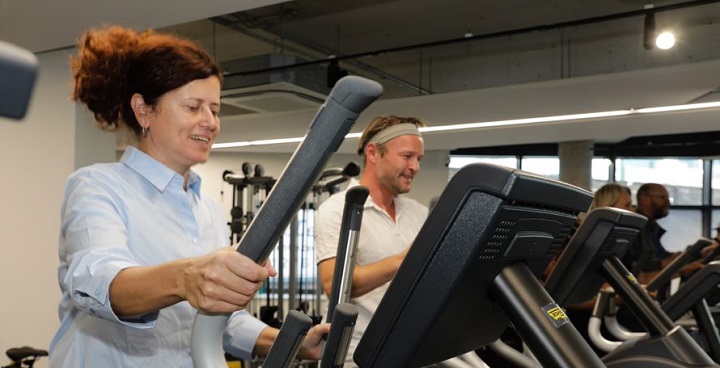 Vauxhall Leisure Centre combines the latest fitness equipment with state-of-the-art technology for a modern health and fitness experience.
Local access to outstanding facilities
Simon Sen, GLL Regional Director said: "We're proud to launch this new addition to our partnership with Lambeth Council, giving local people access to another outstanding public leisure facility."
Word from the Cabinet
Cllr Sonia Winifred, Cabinet member for Cabinet Member for Culture and Equalities, said: "Lambeth Council is continuing to boost wellbeing and encouraging exercise. The opening of Vauxhall Leisure Centre gives people in the north of our borough new opportunities to exercise, swim, socialise and keep fit.
"Make the most of this new centre"
"Our commitment to concessionary prices ensures that those receiving disability benefits, 16- to 19-year-old school students, over-60s and the unemployed will get the same subsidised access we offer at our other Leisure Centres. People in and around Vauxhall will have access to the same membership offers and exercise programmes as elsewhere in Lambeth. I encourage residents to get along and make the most of this new Leisure Centre."
Gym…
Situated within the new Atlas building on South Lambeth Road, the centre features a 100-station gym with Technogym equipment, in addition to a functional training and strength area. Three studios – including a 23-station virtual group cycle studio and two versatile studio spaces – will accommodate the centre's extensive group exercise class programme.
… and Swim
The centre includes a three-lane 25m swimming pool, with lessons through the Better Swim School, and a poolside sauna and steam room for customers to relax and unwind.
Customer experience
Vauxhall Leisure Centre also includes the latest in access and customer service technology, with the centre operating entirely cashless for a streamlined customer experience. "As a social enterprise, we are committed to providing affordable, accessible leisure services throughout the communities that we serve, to get more people more active, more often." – Simon Sen, GLL
---
For more information
For more information, including membership enquiries, visit Better Vauxhall