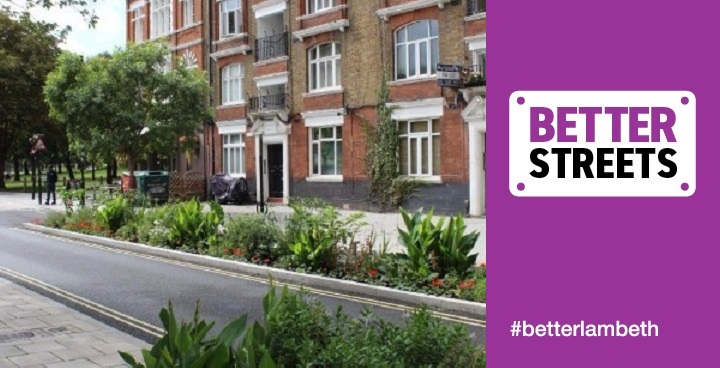 Cllr. Brathwaite, Lambeth Council Cabinet Member for Environment and Housing, explained the role of the Quietway in the transformation of Vauxhall:
"Lambeth Council is committed to delivering inclusive growth, and the investment you see in Vauxhall is helping to deliver more homes, jobs, and better transport. There is also investment in our people to help reduce inequality and in our places to bring communities together, maintaining the mixed and vibrant nature of our neighbourhood
The local developments we want to see
"This project represents the best of what we are able to achieve and is an example of the type of local streets that I, on behalf of the Council, want to see more of:
delivering high-quality public realm spaces to be enjoyed by all
encouraging walking and cycling in the area
creating new areas of planting to improve the look and feel of the street
contributing to improved air quality and sustainable drainage
Quietway 5
The new Vauxhall Walk is part of a partnership with TfL to deliver the Quietway 5 cycle route (rom Waterloo to Norbury) designed for cyclists who want to use quieter, low-traffic routes. The first phase in front of the Tea House Theatre was finished in 2015, this next phase which we are opening today runs from Glasshouse Walk up to Black Prince Road.
Vauxhall One
The project would not have been possible without our partnership. Vauxhall One led the design competition in 2013 with RIBA (Royal Institute of British Architects) and the Landscape Institute attracting a staggering 200+ entries. Erect Architecture with J&L Gibbons Landscape Architects were chosen as the unanimous winner.  We have used their ideas to deliver this beautiful space and are grateful to TfL for their funding support.
"I am very proud of what we have been able to achieve together and look forward to continuing to work with partners to make more of our streets safer, cleaner and more pleasant."
---
For more information
For more about Quietways, see Transport for London's information pages
For more about Will Norman, Cycling and Walking Commissioner see the London Mayor's pages