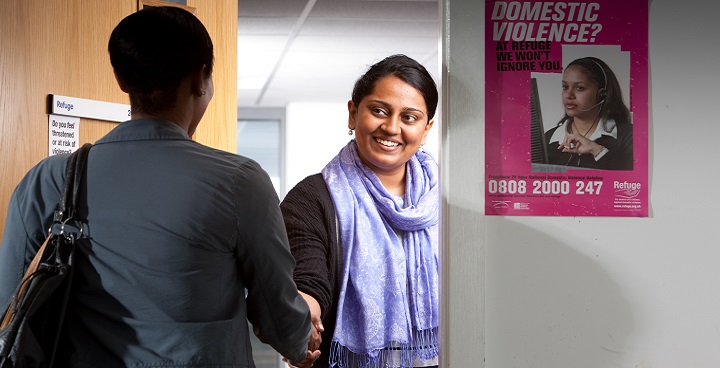 Image copyright Julian Nieman for Refuge
The partnership, which includes Lambeth Council, Lambeth Police, Lambeth Clinical Commissioning Group, National Probation Service, Community Rehabilitation Company and the London Fire Brigade, has renewed the strategy because despite a concerted push, violence against women and girls (VAWG) remains an issue. Police data shows that there have been increases in domestic and sexual violence offences across the capital over the last five years, including in Lambeth.
In 2014/15 the borough experienced a 28 per cent increase in recorded domestic violence incidents, a 39 per cent rise in reported rape, and a 34 per cent increase in serious sexual offences since 2010/11.
The new strategy makes a renewed commitment on behalf of all of the members of the partnership to prioritise tackling VAWG over the next four years.
Lambeth is now recognised across the country as a leader in offering a coordinated response to VAWG. Through clear and committed leadership, and prioritising resources, Lambeth has continued to innovate and provide its communities with services and support that are widely recognised as best practice. This includes the one-stop-shop for victims of VAWG, the Gaia Centre, run by Refuge, which has made a real difference with 95 per cent of service users stating increased feelings of safety and 91 per cent saying it had improved their quality of life.
Reaction
Chloe, who accessed support from the Gaia Centre, said: "After I left my abusive partner, I felt totally lost; I didn't know which way to turn. Attending the support group at the Gaia Centre in Lambeth enabled me to see a future for myself and my children. My keyworker helped me to realise that I am not alone and that what I had experienced was not my fault. She gave me the support I needed – both practical and emotional – to rebuild my life. Thanks to the Gaia Centre – and the friendship of the other brave women I met there – I have a new direction. Now I'm moving forward. I am safe and happy."
Sandra Horley CBE, chief executive of Refuge, said: "At a time when local authority budgets are under pressure, Refuge wholeheartedly welcomes Lambeth's continued support of its specialist work supporting clients in the community. Refuge has worked closely with Lambeth Council to ensure women's voices are at the centre of its approach to violence against women and girls.  We look forward to continuing our partnership into the future – together we can save lives."
Lambeth Borough Commander Richard Wood, said: "We at Lambeth and across the MPS do not accept that Violence against Women and Girls is ever acceptable.  My Community Safety Unit at Lambeth work in partnership with Lambeth Council and have developed a strong relationship.  Partnership working is key to addressing such a challenging area and I am pleased to see that this is an integral part of new VAWG strategy."
Word from the Cabinet
Cllr Mohammed Seedat, Cabinet Member for Healthier and Stronger Communities, said: "Our shared vision remains one where Lambeth is a borough in which residents do not have to be fearful of, or experience, gender based violence. Our guiding principle is that victims will not be held responsible for the violence against them, and that they will be empowered to take control and make decisions for themselves."
Lambeth has also run a number of campaigns outlining the borough's zero tolerance approach to VAWG. These included the award-winning campaign against sexual violence, Know the Difference, and the Thinking of Buying Sex? Think Again campaign aimed at buyers of sex from women involved in prostitution. The Know the Difference campaign was adopted by the Armed Forces and Thinking about Buying Sex was repeated by another London borough.
Help available
If you feel threatened or at risk of gender based violence support is available. The Gaia Centre provides free confidential and independent support. To find out more visit www.refuge.org.uk/about-us/what-we-do/gaia-centre-lambeth or call 020 7733 8724 or email lambethvawg@refuge.org.uk.
In an emergency always call 999.