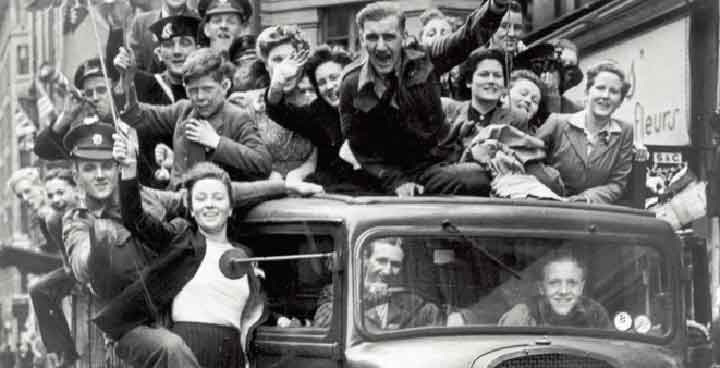 VE Day was on Tuesday 8 May 1945.  This was the day after Germany formally surrendered in France and the day of the surrender in Berlin.  The day was made a public holiday and there was strenuous rejoicing. Much was centred on central London – Trafalgar Square and Buckingham Palace, but around London there were also street parties and parades.
Lambeth had been very heavily damaged during the war, both in the 1940-41 blitz and then after in V1 and V2 (flying bomb) attacks.  About 4,300 homes had been destroyed and 38,000 damaged and there was an acute housing shortage.
To celebrate, VE Day street parties were held across the borough. The photographic record of these often shows well-dressed children at well-ordered tables, but accounts of huge bonfires, presumably later in the day, suggests rather less-restrained activity.  The huge military parade that went through central London also went south of the river via London Bridge, Kennington Road and Vauxhall Bridge.
Lambeth also had its own municipal celebrations.  Mayor Alderman Lockyer addressed crowds from the steps of the town hall on Tuesday 8 May. There was a thanksgiving parade of those who had been active on the home front on Sunday 13 May, also from the town hall.  There was a much larger victory parade through Brixton in June 1946.
To see pictures of the VE day celebrations in Lambeth, visit http://landmark.lambeth.gov.uk/default.asp
To mark the 70th anniversary in Lambeth the following events are planned:
VE day display
April – August 2015
Two display cases with photos, newspapers memorabilia taken from Lambeth's archives.
Lambeth Archives, 52 Knatchbull Road, SE5 9QY.
Call: 0207 926 6076
Two-minute silence
Friday 8 May at 3pm
To mark the exact moment when Churchill announced that the war in Europe was over.
Soviet Memorial Trust Fund mark 70th anniversary act of remembrance
Saturday 9 May, 11am
Geraldine Mary Harmsworth Park, adjacent to the Imperial War Museum, Lambeth Road, Southwark, SE1.
Call: 020 7274 2282
Southwark Cathedral commemorate 70th anniversary of VE Day
Sunday 10 May, 2.45pm
Southwark Cathedral, London Bridge, SE1 9DA.
Call: 020 7367 6700
Among the streets of the dead city
Thursday 21 May, 2pm
Jon Newman, Lambeth Archives, leads a walk through North Lambeth, assessing the post-war destruction that confronted the borough in May 1945.
Meet outside Waterloo Library – finish at South Bank Centre.
Call: 020 7926 0518
The 70th anniversary of VE Day is being celebrated across the UK, for a full list of events visit: www.gov.uk/government/topical-events/ve-day-70th-anniversary